When
Wednesday, December 2, 2020 -
Add to Calendar
Where
Online Webinar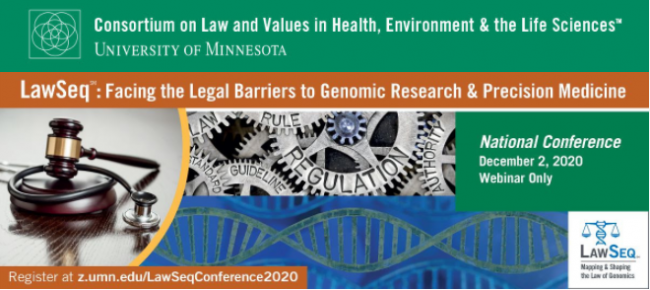 December 2, 2020
8:00am - 12:45pm Pacific
Webinar Only (All agenda times are Central time)


Genetics and genomics are becoming crucial to clinical care. As the "precision medicine" revolution spreads, cancer treatment, rare disease diagnosis, and cardiac care increasingly use genomics. Unfortunately, law and policy lag behind science, and the law governing genomics remains unclear and contested.
This is the third event from the LawSeqSM project, an NIH-funded project to shape the law of genomics and build a solid foundation for clinical integration. This event will be a highly interactive meeting of multidisciplinary experts to share their analysis of US federal and state genomics law and policy to recommend changes in order to support successful integration of genomics into clinical care.
Agenda
Speaker Biographies
Planning Committee
Resources
LawSeqSM Genomics Law Database
Presented in collaboration with Ropes & Gray, LLP, Hyman, Phelps & McNamara, PC, Vanderbilt University Medical Center, and the Consortium on Law and Values in Health, Environment & the Life Sciences at the University of Minnesota. It is an outgrowth of the NIH-funded LawSeqSM project, which is dedicated to building a sound legal foundation for translating genomics into clinical application. Supported in part by the National Human Genome Research Institute (NHGRI) and National Cancer Institute (NCI), National Institutes of Health grant R01HG008605. The content is solely the responsibility of the authors and does not necessarily represent the official views of the National Institutes of Health.

Continuing Education Credit
We will offer General CLE credits for New York, California, Illinois and Minnesota.
The Minnesota State Board of Continuing Legal Education approved 3.75 standard Continuing Legal Education (CLE) credits; Event Code is 294367.

Audience
This interactive meeting will provide education to attorneys, researchers, healthcare providers and administrators, policy makers, faculty, students and interested community members.
Contact boyle032@umn.edu with questions.