Ralph Denton Professor of Law
Areas of Expertise:
Race and Law
•
Employment Discrimination Law
•
Civil Rights
•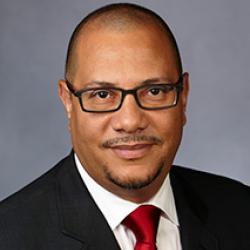 Education:
B.A., Southern University, 1988
J.D., Yale Law School, 1991
Ralph Denton Professor of Law
Areas of Expertise:
Race and Law
•
Employment Discrimination Law
•
Civil Rights
•
Bio:
John Valery White is the Ralph Denton Professor of Law at the University of Nevada, Las Vegas (UNLV) William S. Boyd School of Law. After a decade as Dean of the Boyd School of Law, Executive Vice President and Provost of UNLV, and Acting Chancellor of the Nevada System of Higher Education, Professor White returned to the faculty. His current scholarly focus is on the role of civil and human rights law in addressing the demographic consequences of globalization.
He earned his BA from Southern University and his JD from Yale Law School, where he was a Notes and Topics editor for the Yale Law Journal. Professor White began his academic career at Louisiana State University's Paul M. Hebert Law Center as an assistant professor of law, ultimately becoming the J. Dawson Gasquet Memorial Professor of Law while teaching and publishing on civil and human rights law. He directed LSU Law's summer program in Lyon, France and was a distinguished visiting professor at the University of Insubria in Como, Italy, where he explored the role of civil rights law and multicultural theories in response to globalism.
As a Schell Fellow at Human Rights Watch/Middle East in New York City in 1991-1992, Professor White analyzed humanitarian law and human rights issues related to the Gulf War and participated in a site visit to Egypt, investigating arbitrary detention and torture and prison conditions which led to book-length Human Rights Watch reports on torture and prison conditions in 1992.
He is widely published, having contributed to multiple books and written articles dealing with human rights, civil rights, and discrimination. Professor White has served as a guest lecturer, panelist, and speaker both nationally and internationally and is a member of the American Law Institute, the Council on Foreign Relations, and serves in leadership positions across many non-profit foundations and boards.
White began his service to LSAC with his membership on the Services and Programs Committee (2011 – 2013). He was elected to the Board of Trustees in 2015, where he served as a member and chair of the Audit Committee (2015 – 2019) and is currently chair of the Investment Committee.