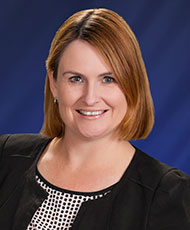 Susan M. Pitz, class of '02, serves as general counsel at University Medical Center of Southern Nevada (UMC). UMC, a publicly owned and operated hospital, has been serving the health care needs of Southern Nevadans since 1931. UMC has Nevada's only Level 1 Trauma Center, only Pediatric Level II Trauma Center, and Nevada's only burn center. The hospital is the primary teaching hospital for the UNLV School of Medicine.
Giving back to the community that has been her home for the past 20 years drives Susan. "A major part of my decision to take on the role of general counsel at UMC was the ability to be in a position to make a difference. This is a very important time for healthcare in this country and in this community. I believe UMC will play a central role in many of the changes taking place in healthcare in Las Vegas, including the growth of the new UNLV School of Medicine. UMC is our community hospital, and the healthcare community will only strengthen as its hospital strengthens."
Prior to joining the team at UMC, Susan spent 12 years in private practice, including seven as a principal in Nutile Pitz & Associates, a leading health law firm located in Henderson, Nev. Susan was a member of the second entering class of the Boyd School of Law. While at UNLV, she served as an editor for the Nevada Law Journal and was a founding member of the Sports and Entertainment Law Association. She stays involved at the Boyd School of Law today as a guest lecturer and a member of the Health Law Program Advisory Board. Next year, she will be offering a course in fraud and abuse law.