Tuesday, September 25, 2018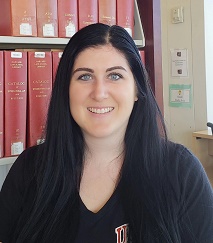 This summer, Health Law Society President Ariana Caruso interned for the Medical Legal Partnership between Washoe Legal Services and Northern Nevada HOPES Clinic in Reno. The MLP works to improve overall health conditions through legal intervention. Over the summer, Ariana helped prevent evictions, seal eviction records, seal criminal records, and much more. She was able to see how her work helped clients stay in their homes, have a better chance of being able to rent a home, and have a better chance at getting a job.
Ariana also had the opportunity to learn by observing the work her supervising attorney did every day. The attorney was constantly meeting with clients on issues ranging from problems with their Social Security to domestic violence situations. The MLP is an excellent resource for the HOPES patients. The attorney is on site at the clinic giving patients easy access to meet with her, sometimes the same day as their appointments. Access to healthcare can be difficult for people and the Medical Legal Partnership is working to improve its patients' health. It is reducing ER visits, encouraging patients to show up for appointments, and giving people chances to improve their lives. Ariana feels very fortunate that she was able to do her part with the MLP and see directly how the lives of patients are affected.