Tuesday, October 30, 2018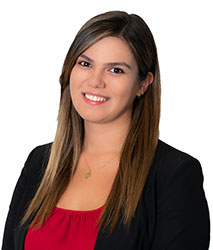 After the October 1 shootings exposed the need for better emergency planning in Las Vegas, the Southern Nevada Health District (SNHD) took action to ensure an optimal response to future mass casualty events. During her externship with SNHD this past summer, Health Law Society Vice-President Elva Castaneda took the lead in drafting a regulation on "alternative care sites."
Alternative care sites are off-site treatment areas meant to be used when mass casualties overwhelm the resources of local hospitals. Elva reviewed Emergency State Plans and statutory regulations in all 50 states to identify model plans for alternative care sites during emergencies. Ultimately, she prepared a first draft of a regulation that was used when the topic came before the State Board of Health.
Elva also worked on a range of other projects during the summer. The SNHD focuses its efforts on offering services and providing regulatory supervision that impact public health every day—from the food people eat and the water they drink to the public establishments they visit. She worked under the SNHD general counsel, and her responsibilities included reviewing/updating regulations, approving public health record requests, preparing legal memoranda, reviewing contracts, and attending administrative hearing and Health Committee meetings.
The SNHD also allows citizens to submit complaints regarding illegal dumping. When a complaint is received, the Solid Waste and Compliance staff investigates, and when possible, assembles evidence for submission to the Solid Waste Management Authority Hearing Officer. Elva concluded her externship by prosecuting an administrative solid waste hearing. She was able to give an opening and closing statement, submit evidence to the hearing officer, and question/cross-examine a witness.