The Boyd School of Law and The National Judicial College Launch Kids' Court School in Northern Nevada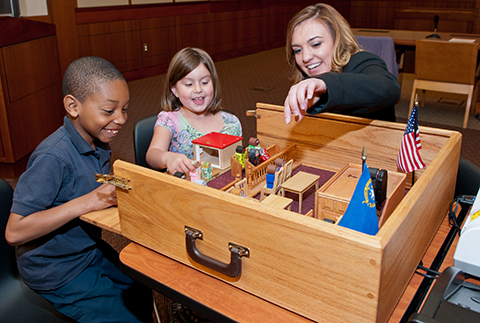 On March 13, 2015, the Kids' Court School at the Boyd School of Law held a milestone celebration to mark its assisting 1,000 children. The event included a demonstration of the program and a mock trial. (Pictured above: Boyd student Samantha Rice) 
The William S. Boyd School of Law is partnering with The National Judicial College (NJC) to bring the Kids' Court School to Northern Nevada. The award-winning program helps educate children about the courtroom process. 
Kids' Court School Founder and Professor Rebecca Nathanson and Boyd student Samantha Rice, who will coordinate the program, are in Reno this week to celebrate the launch. On Feb. 17, Kids' Court will be introduced to key players in the Northern Nevada judicial and legal community, with the hope that agencies such as the Department of Family Services, the Juvenile Public Defenders Office and more will recruit children who need the services to the program. Professor Nathanson will also present and train volunteers. 
Established in 2002, Kids' Court School was designed to teach children strategies for reducing anxiety before legal proceedings and increase their credibility in court. It is geared to children ages 4-17 who are participating in impending legal proceedings. 
The program has garnered national recognition as a model for children's courtroom education. In 2012, it won the Bright Ideas award from
Harvard University and in 2015 received a U.S. Senatorial Commendation. 
"The NJC is pleased to partner with Boyd School of Law to host a program that will instill more confidence in children and hopefully improve the quality of justice in Northern Nevada," said NJC President Chad Schmucker. 
Housed on the campus of the University of Nevada, Reno, the NJC has been offering courses to improve judicial productivity, challenge current perceptions of justice, and inspire judges to achieve judicial excellence for more than 50 years. 
As part of the program, children participate in two, one-hour sessions. The first focuses on the pretrial and trial processes, where they learn about courtroom processes and the roles and functions of courtroom participants. During this session, children also learn communication techniques, including the importance of telling the truth and the ability to ask for clarification during questioning. 
Shortly before the trial begins, children participate in the second session, which includes learning the concepts of deep breathing and positive self-talk to help reduce anxiety while testifying. They also participate in a mock trial, which will take place in the NJC's state-of-the-art model courtroom facility. 
Children are taught by court educators who are Boyd School of Law students, like Rice, pursing a law degree or those who are also pursuing a dual degree in law and a Ph.D in educational psychology. 
"I've worked with the Kids' Court School for the past three years," Rice said. "It's been an incredible experience to see children gain confidence before they testify in court. I'm excited to bring this established program to Reno to help children and youth of Northern Nevada." 
Since 2002, more than 1,000 children in Southern Nevada have participated in the program, which will now serve the children of Northern Nevada. Children who are scheduled to appear in court in any capacity, as a witness, victim or youth charged with a crime, are eligible to participate in the Kids Court School. There is no charge for participation.