Leslie C. Griffin's Busy Scholarship Activities Are at the Intersection of Law and Religion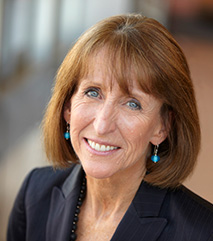 Professor Leslie C. Griffin, William S. Boyd Professor of Law, is in the process of completing the first edition of a Learning Constitutional Law casebook with coauthor Marci A. Hamilton. She notes the writing process, "It is really fun to have an almost-complete casebook, and students really liked the draft we used during the fall." While the challenge of writing a first-edition case book is one of Professor Griffin's latest projects, this work is not new for her. Last year, she published the fifth edition of Law and Religion: Cases and Materials. She comments that she studied religion before studying law: "It is interesting to see how these topics have evolved over the years, and now law and religion are something everybody talks about all of the time."
Her scholarship on this topic led to an article about Catholic Justices published in 2022 after Justice Amy Coney Barrett took the bench of the U.S. Supreme Court. How Did Those Sixteen Justices Vote About Religion? identifies the Catholic Justices who have served on the U.S. Supreme Court, starting with Chief Justice Taney and ending with Justice Coney Barrett. Professor Griffin notes seven of the Court's current Justices were raised Catholic. And in her feminist rewriting of another court's published opinion, Means v. United States Conference of Catholic Bishops, she explains why tort law—not religion—should govern religious hospitals.
This month, Professor Griffin published an opinion on the Baltimore Report, a very timely piece relating to the Attorney General's report on child sexual abuse in the Archdiocese of Baltimore. "As a religion scholar," she says, "I learned to see both the good and bad parts of religion. I think the law needs to do this too." Working with CHILD USA—which she describes as "real people working in the courts to protect children"—with her coauthor Marci A. Hamilton, Professor Griffin shares, "It's a negative story to tell, but I feel like people need to see what the history of abuse was." She also wants to explain to people what happened so society can prevent it from happening again.
Professor Griffin's current project analyzes the Roman Catholic clergy sexual abuse cases in the United States. This piece looks explicitly at Massachusetts, Vermont, New Hampshire, and Maine, all in the Archdiocese of Boston. She hopes to publish her findings later in 2023.