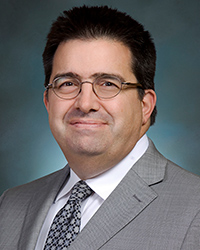 LAS VEGAS – The UNLV William S. Boyd School of Law is pleased to announce that former Lewis Roca Rothgerber Christie gaming law partner Anthony (Tony) Cabot will serve as the law school's first Distinguished Fellow in Gaming Law. Mr. Cabot practiced in the field of gaming law for more than 35 years and has been widely regarded as the most reputable gaming attorney in the U.S. He will continue to build upon UNLV Law's reputation as a leader in gaming research and education.
As a fellow, Mr. Cabot will teach and advise Juris Doctor (J.D.) and Master of Laws (LL.M.) students in the gaming law program, advance scholarly discussions and research as a contributor to the "Gaming Law Journal" and expand educational relationships in other gaming jurisdictions.
"For several years, students at UNLV Law have enjoyed the opportunity to learn from Tony as an adjunct professor and I am thrilled he is now joining us as a Distinguished Fellow," said Daniel W. Hamilton, dean of the UNLV William S. Boyd School of Law. "Tony brings an extraordinary depth of high-level experience to our program, and is an invaluable resource not only for our students but in our engagements with key players in the gaming industry."
While at Lewis Roca Rothgerber Christie, Mr. Cabot's practice covered the entire gaming spectrum; his clients included casino owners, game developers, Internet gambling sites, and companies that run contests and sweepstakes. A prolific writer on the subject of gaming law, he co-authored The Law of Gambling and Regulated Gaming: Cases and Materials, 2nd Edition, a leading case book used in law schools throughout the United States. He also co-edited and co-authored Regulating Land Based Casinos, 2015, and Regulating Internet Gambling, 2014, both published by the Gaming Press at the University of Nevada, Las Vegas.
"I am very proud to have been a part of the Gaming Law Group at Lewis Roca Rothgerber Christie and to work with a team of highly talented and experienced gaming attorneys," said Mr. Cabot. "As I leave the Gaming Practice in capable hands, I am excited to join the UNLV Law community and further the school's mission to develop the future leaders in gaming law."
The only advanced legal degree program of its kind, the LL.M. in Gaming Law and Regulation at the William S. Boyd School of Law serves as a natural complement to the school's existing J.D. program, which already offers its students more gaming courses than any other law school in the country. Offered to both foreign and domestic students who hold a J.D., Bachelor of Laws or equivalent law degree, the program takes one academic year for full-time students or two academic years for part-time students.