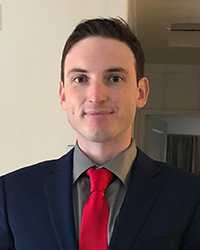 Who in your life has been instrumental to your success?
Parents Patrick and Christi Pettigrew, Grandparents Jack and Caren Coffey, Sister-Lindsey Pettigrew, Brandy Emerson, Ethel Coffey, David Hop, Deb Larned, Jenna, Bissonette, Karen Trella, Great Grandmother Delaurus Hoffman, Dylan Quantz, David Quantz, Ryan Petronella, Matt Prevallet, Joey Dahms, Colin Vann, Gabe Mancillas, Daniel Pohoretsky, Tara Roesler, Steven Gould, Alec Sills-Traush, Brandon Thompson, Juan Carlos Flamand, Fmr. State Senator Steve Farley, Fmr. Congressman Ron Barber, Congressman Tom O'Halleran and Office, Brian Wall, Nakia Jackson, Christine Zack, Max Gakh, Frank Durand, Professor Jared Carter, Professor Jennifer Taub, Professor Ruben Garcia, Professor James Diamond, Carol Kingman, Carole Switzer, Tye Masters, Gina Stillwell, Professor Dr. David Orenlicher, Professor David Doto, Heather Mosher, Carla Keehn, Joanna Medrano.
Special thanks to Angela Wilson, Keith Saurin, Scott Curry, George Hall, Robin Moore, Breana Fuentes and the entire team at National General Insurance an Allstate Company.

What brought you to Las Vegas (or another city)?
Boyd School of Law

Tell me about your decision to attend Boyd School of Law.
I decided to attend Boyd School of Law for its quality programs in the region of the country I wanted to reside.

What do you wish you would have learned at the beginning of your career?
To find balance.

Do you have certain memories about law school that you want to remember?
I remember working the Guardianship Clinic with my classmates, the Senior Law Center, and Professor Doto's System Design Class.

Tell us about a program or accomplishment that you consider your greatest personal or professional success since beginning your career?
To date my new claims system design is my greatest professional accomplishment thus far. My idea will leave a legacy for years to come. My system design delivers a targeted cost savings which translates into us mitigating risk and increasing profitability. Not to mention saving time for customers as well, so they can get back on the road sooner.

What do you enjoy in your off hours?
I enjoy going on walks with my dog, hiking, listening to music, jogging, playing in slow-pitch softball leagues, attending yoga classes, exploring new cities, and attending Padres or Diamondback games.

What was the toughest lesson you've learned so far in your career?
Ask questions, never assume.

What drew you to National General Insurance an Allstate Company and what do you like most about your work there?
I enjoy working with our teams and helping people. It is something new every day. We are innovating the insurance industry.
What community nonprofits might you be associated with?
I have volunteered for many non-profits such as Habitat for Humanity, The Special Olympics, and various Food Banks throughout the years.

How big of a challenge is time, and people management?
Time is the most valuable asset for each of us managing time can be difficult.
How do you affect or make changes in the community?
I donate time or money when I can to non-profits.
What would be the title of your autobiography?
Get Gritty
How did you get into the Insurance industry? Not all attorneys have law practices, as you know.
I wanted to be in a stable and recession proof industry and have opportunities for professional development so I started applying for jobs at insurance companies. National General Insurance an Allstate Company took a chance on me and I am thankful and grateful to be a part of an entrepreneur minded and innovative company.

You're involved in a lot - business, philanthropy, entrepreneurism. How do you keep everything balanced and organized?
I correspond with the White House (President Biden) to stay involved in the political process and stay up to date on different issues affecting the country.

What is your favorite thing about living in Arizona?
My favorite thing to do is going hiking throughout Arizona. My favorite spot being Sedona.

How has the digital age changed the way your organizations operate?
We have the opportunity to work remotely.

Do you have a motto and what is it?
We live in a world we design.

What are your success habits? What drives you to push through difficult times?
I try and run regularly, go to yoga class to meditate, eat a whole-foods plant-based diet, and hike to connect with nature.
Family and friends help push me through difficult times. Life is all about relationships, your relationship with yourself and people. We're on this planet for maybe a millisecond on the timeline of natural history. I find solace in nature.

Where do you see yourself (and your firm/company/business) in 10 years?
I see myself continuing to be a team player innovating collaboratively for National General Insurance an Allstate Company. I see Allstate and National General Insurance continuing to innovative the industry.

If you had to live in another country for a year, which would you choose and why?
I would live in Costa Rica; I lived with a host family and completed a sustainable community development project in Costa Rica previously. I love the culture and people. Pura Vida! Bonus, I speak some Spanish and continue to work on becoming fully fluent.
If you could have dinner with any fictional character, who would it be and what would you have to eat?
Indiana Jones, I would have chilled monkey brains (Temple of Doom Fans). Kidding, I am a vegetarian, I would have a veggie pita wrap.
Admiral Kirk, some fresh fruit.

What is your biggest pet peeve?
Slow WIFI
Any business advice you would give to someone just starting in the profession?
Stay humble have humility.

Where do you like to go for business lunches?
Pita Jungle, Original ChopShop, and Beyond Bread.

If you could change one thing about yourself, what would that be?
My patience, as an innovator I am always pushing for new ideas and I want to see them come to fruition. Good things take time to develop. Patience is a virtue.

Advice you would give to a new colleague.
Ask questions and ask for help if you need it. Trust in the process, good things will come.

What is a little-known fact about you?
I love natural history, music, art, film, animals, philosophy, health, and evolutionary biology. I like to learn about dinosaurs and ecosystems.

I couldn't make it through the day without ….
My plant-based protein shake.

Recommend a favorite book or movie.
Movies: Young Frankenstein, Bridge of Spies and Moneyball
Books: The Hot Zone: A Terrifying True Story by Richard Preston: The China Study by T. Colin Campbell and Thomas M. Campbell

A perfect vacation would be…
Being immersed in another country and culture with some friends to explore with. Beach days, ziplining, eating and drinking local food. Farm to table is best.

Tell us about a case that you are particularly proud of.
Helping immigrants as a Law Clerk was rewarding. Prosecuting violent offenders for Pima County Attorney's Office as a Law Clerk was rewarding as well.

Tell us about a turning point in your career.
Breaking into the insurance industry, I have learned immensely and will continue on the growth continuum.

What is your elevator pitch for a recent Boyd Law graduate?
Be practical and reasonable. The sun will come up tomorrow. It is not where you start it is where you finish that counts. Everyone is on their own timeline. Find joy in the little things every day. Try everything until you stick your landing. What is meant to be will be.

What do you want your legacy to be?
My relationships inspired others to realize their dreams and generated awareness of the choices they make that impact our planet. We are all human, it is my belief that fundamentally we all want the same thing which is to achieve happiness. How we define happiness, well that's up to the individual, but I think fundamentally we all want and need clean air to breathe, clean water to drink, space to roam, shelter, healthy food to eat, and opportunities to interact with one another. If we can start with those fundamentals we can achieve great things. Let nature be our guide. I hope we start becoming stewards of the planet and value animal life as well as human life. Every living organism is interconnected to the other in one way or another.

What does success mean to you?
Having harmonious relationships with others which translates into a healthy mind and healthy body which equals achieving happiness and contentment. Success is acceptance, love, and happiness. Life is not a competition it's a journey. Our mortality is our comedy and all comedy is tragedy. We live, we die, it's what we do with our time in between that counts!

How did you first get into the legal profession?
I started in politics attending Obama's inauguration in 2009. I was captivated by President Obama at a young age. I volunteered for Gabrielle Gifford's, interned for Ron Barber, served as an Elected Precinct Committeeman, and worked as a staffer on some of the most competitive campaigns in America. I fell in love with changing lives through our political and legal system. I changed my major from Physiology to Law in undergrad and found my way to law school. The rest is history thus far.