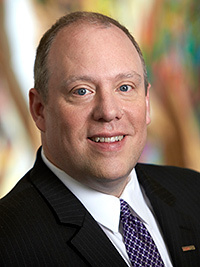 One of the biggest changes to Las Vegas in recent years has been the addition of professional sports teams. The Las Vegas Raiders look forward to their first game in front of live fans, and the Vegas Golden Knights continue to have spectacular success as a new franchise. Here at UNLV Boyd, we are delighted to now offer a new course on Professional Sports Law taught by Peter Sadowski, the Executive Vice President and Chief Legal Officer for the Vegas Golden Knights.
This course provides a remarkable opportunity for our students and addresses the legal and practical aspects of operating a professional sports team. The course has welcomed an extraordinary array of industry leaders from across the country and around the world, including Bill Foley, the owner of the Vegas Golden Knights, and George McPhee, President of Hockey Operations for the Knights. Other guest speakers include, Dan Ventrelle, Executive VP and General Counsel of the Las Vegas Raiders; Jessica Berman, Deputy Commissioner and Executive Vice President of Business Affairs of the National LaCrosse League; Dan Beckerman, President and CEO of AEG which operates the Staples Center, The O2 in London, and the Mercedes Benz Arena in Berlin; and Alan Gold, Partner at Evolution Media who has negotiated more than $50 billion of media deals for sports teams.
I want to thank Mr. Sadowski for bringing this terrific new course to Boyd, and my thanks to 3L Dylan Lawter for his work as a teaching assistant.
On Saturday evening, the Student Bar Association will host a virtual Barrister's Ball. My thanks to SBA President Reema Hassanieh and the student leaders at the SBA for all of their hard work coordinating what will be a wonderful event. The evening features a keynote talk by Judge Cristina Silva from the Eighth Judicial District Court, and I want to extend my congratulations to this year's awardees.
Justice Award: Chief Justice James Hardesty
Service Award: Nevada ACLU Executive Director Athar Haseebullah
Advocacy Award: Speaker of the Assembly and UNLV Boyd alum Jason Frierson
We are thrilled to welcome back this annual event and we are delighted to once again celebrate the year with students and the Boyd community.
Be well,
Dan
Dean & Richard J. Morgan Professor of Law
daniel.hamilton@unlv.edu