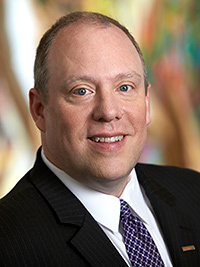 Dear Boyd Nation,
Normally, we would be in Ham Hall at UNLV gathered together to celebrate our newest alums. Families and friends would scream and shout, air horns would sound, and Frank would keep everything moving like clockwork. Even though we are at home, we want to celebrate the Class of 2020 with a virtual commencement, until we are able to meet in person.
I'm particularly grateful to Senator Catherine Cortez Masto and Senator Harry Reid, Distinguished Fellow in Law and Policy at the law school, for their recognition of the class, and to Mr. Boyd and Barbara Buckley for their warm words in honor of their prize recipients. Check out terrific congratulations from faculty and staff and a cool slideshow as well.
Be sure to click here to view the videos. You can also check this out directly through the law school's web page at this web address: law.unlv.edu/boydlaw2020.
Enjoy until we meet again, and please feel free to use your air horn while viewing.
I would also like to recognize the outstanding achievements of this years award recipients.
William S. Boyd Outstanding Graduate Award
Recognizes scholastic achievement, overall leadership, and contribution to the law school community
Christian Ogata
James E. Rogers Outstanding Scholastic Achievement Award
Recognizes overall scholastic achievement
Arthur Burns
Barbara Buckley Community Service Award
Recognizes outstanding commitment to community/public service
Kami Orton
Dean's Awards
Recognizes individual contributions or accomplishments of note to the law school community
Nicole Bastos
Taylor Buono
Daniel Brady
Elva Castañeda
Edgar Cervantes
Adrianna Guida
Paige Hall
Esteban Hernandez
Hugo Hernandez-Diaz
Austin Maul
Megan Ortiz
Amanda Stafford
Clinical Legal Education Association Award
Recognizes excellence and achievement in the clinical program
Kathleen Villatoro
Jackson Wong
LaFrance – Trimble Award
Recognizes the outstanding graduate in the Intellectual Property Law Concentration
Dean Navalta
Scribes, The American Society of Legal Writers
Recognizes excellence in legal writing while in law school
Jerrell Berrios
Edgar Cervantes
Adrianna Guida
Paige Hall
Christian Ogata
As our last issue of Boyd Briefs heralds the close of an unprecedented year here at Boyd Law, I'm still awestruck by the continued sense of community and unparalleled camaraderie of our students, faculty, and staff. In the coming months, we look forward to being able to share with you upcoming events and speakers.
On behalf of the faculty and staff, I wish you a safe and happy summer.
Best,
Dan
Dean & Richard J. Morgan Professor of Law
daniel.hamilton@unlv.edu