From Dean Dan - September 13, 2019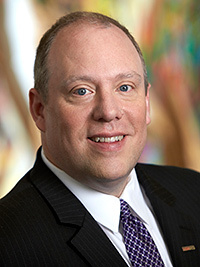 Yesterday we launched our new Law and Leadership Program under the direction of Distinguished Fellow Governor Brian Sandoval, one of the most successful governors in Nevada history. It was an extraordinary day of learning from Nevada's leaders and past chief executives of fellow western states, and leading members of the state and federal bench. Congratulations to Senator Nicole Cannizzaro, UNLV Boyd alumna and the first female Senate Majority Leader in Nevada history, who received the inaugural Governor Brian Sandoval Award for Public Service. My sincere appreciation to Governor Steve Sisolak who provided terrific closing remarks.
Learn more about the several issues discussed throughout the day in this Las Vegas Review-Journal article, this story from The Nevada Independent and a segment on KLAS-TV (ch. 8).
Here are some highlights from yesterday's incredible event:
Nevada Senators Panel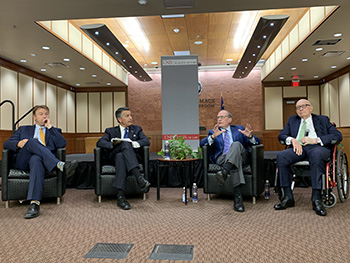 Senator Dean Heller, Nevada (2011-2019), Distinguished Fellow Brian Sandoval, Senator Richard Bryan, Nevada (1989-2001), and Senator Harry Reid, Nevada (1987-2017)
Nevada Governors Panel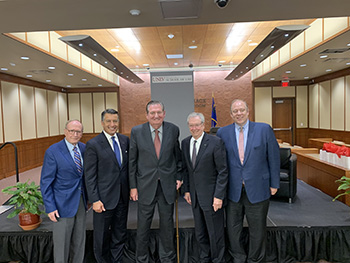 Governor Richard Bryan, Nevada (1983-1989), Governor Brian Sandoval (2011-2019), Governor Bob Miller, Nevada (1989-1999), Governor Robert List, Nevada (1979-1983), and Dean Hamilton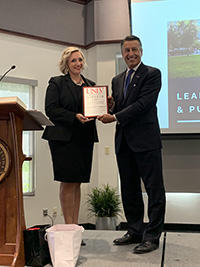 Distinguished Fellow Brian Sandoval presents the Governor Brian Sandoval Award for Public Service to Senator Nicole Cannizzaro, Nevada Senate Majority Leader
Judicial Panel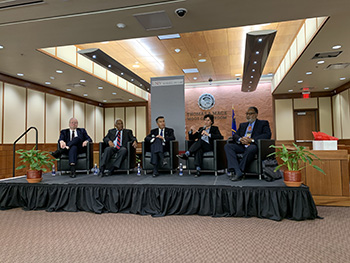 Judge Philip Pro, United States District Court for the District of Nevada (Ret.), Justice Michael L. Douglas, Justice of the Supreme Court of Nevada (Ret.), Distinguished Fellow Brian Sandoval, Justice Lidia Stiglich, Justice of the Supreme Court of Nevada, and Judge Andre Davis, United States Circuit Judge of the United States Court of Appeals for the Fourth Circuit (Ret.)
Western Governors Panel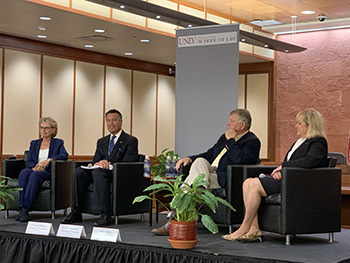 Governor Christine Gregoire, Washington (2005-2013), Governor Brian Sandoval (2011-2019), Governor David Freudenthal, Wyoming (2003-2011), Governor Mary Fallin, Oklahoma (2011-2019)
Best,
Dan
Dean & Richard J. Morgan Professor of Law
daniel.hamilton@unlv.edu