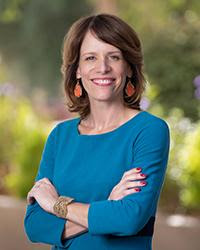 We have much to celebrate at the law school this week. On Wednesday, we received news that President Biden has nominated Boyd Professor and Associate Dean for Experiential Education Anne Traum to serve as a federal district judge in Nevada. Dean Traum is a nationally recognized expert in criminal law and access to justice issues and has spent much of her career assisting pro se individuals and advancing indigent defense reform. She has taught and mentored students in law school clinics that cover the gamut of criminal defense, from misdemeanor defense to appellate advocacy. Through that clinical teaching, Dean Traum has given our students the opportunity to understand access to justice issues and provide direct assistance to members of the Las Vegas community. Before joining the law school in 2008, Dean Traum served as an Assistant Federal Public Defender in the District of Nevada, a civil Assistant United States Attorney in the United States Attorney's Office for the District of Nevada, and a trial attorney in the Environment and Natural Resources Division of the United States Department of Justice. We know that this wealth of experience, which has benefitted so many of our students, will similarly inform Dean Traum's work on the federal bench. We are incredibly proud of her achievement.
Yesterday was also the 90th birthday of our founder and namesake, William S. Boyd, whose generosity and commitment to this community has made possible much of the success Dean Traum and others at the law school have achieved. In the mid-1990s, Mr. Boyd had the foresight and vision to create a law school for the people of Nevada and worked with the state legislature to make the Boyd School of Law a reality. Mr. Boyd was instrumental in establishing the law school, both in gathering community support, and in providing financial support, pledging $30 million to ensure the success of the school that would eventually bear his name. This support, and the creation of an in-state law school at UNLV allows us to keep great students in our state, students who then go on to work and serve throughout Nevada and improve the practice of law and the lives of the people who live here. And throughout all of the years of the law school's existence, Mr. Boyd has been a generous and thoughtful presence whose guidance and support has benefitted all of the law school community; he has been a good friend and counselor to so many of us. The law school and the state are better because of Mr. Boyd and everything he has done throughout his many years in Nevada. We wish him a very happy birthday.
Please join me in congratulating Dean Traum and wishing Mr. Boyd a happy 90th birthday!