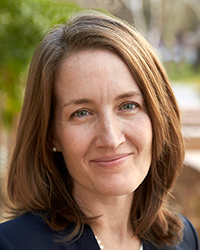 How do you approach teaching your favorite topics? Your least favorite?
As an advocate, I love oral argument, so preparing a student to argue in the Ninth Circuit-as Annie Avery did this week-is a joy and a challenge! Oral argument is a complex task that requires mastery on so many levels: the record, the substantive law, the theory of the case, and the actual live performance. To develop that mastery, we watched and listened to arguments, crafted over 100 questions and answers, mooted the case in role with four sets of lawyers from the community, and practiced in small groups for dozens of hours. And I know it worked, because Annie had a stellar solo performance, thanks to a big supporting cast!
What's the most important thing you are working on right now?
Right now, I am focused on the early stages of criminal cases. In the community, I am privileged to serve on the committee on evidence-based pretrial release and the right to counsel commission. At the law school, Professor Eve Hanan and I are starting a Misdemeanor Clinic, to provide students a hands-on experience representing clients in municipal or justice court.
In my scholarship, I'm examining early-stage adjudication from a different angle, focusing on what I call front-end systemic reform litigation. These civil suits, which challenge criminal procedural issues like bail and the appointment of counsel, are disruptors to the traditional role and perceived-limits on systemic reform litigation. Whether or not these cases succeed in the courtroom, they may be having a catalytic effect by bringing a new perspective to the attention of policymakers.
What have you read, listened to, or watched recently that has influenced you or your work?
Lately, I've been fascinated by the New York Times series "Overlooked," which contains obituaries of remarkable people, including many women and minorities, whose lives, deaths and contributions to society were not reported by the paper. As an appellate lawyer at heart, I love the exercise of revisiting a record, whether legal or historical, and filling the gaps. The obituary series is doing this person by person, trying to make the record whole. The detailed portraits are windows into history-and the choices embedded in public recordmaking-on the most human scale.