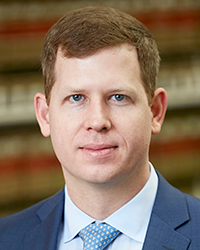 Which of your recent books or articles should I read?
I recently published a law review article about how consumers struggle to navigate markets for professional services. The article, The Professional Prospectus, argues that consumers and markets would benefit if we made more useful information about professionals available to consumers. It considers the benefits and risks of making a standardized prospectus available for professionals instead of just for securities offerings. I also wrote a couple of op-eds focused on an immigration court case to get the idea out to a broader audience. You can read them in The Wall Street Journal and in The Hill.

How does your research and scholarship influence your teaching and service and vice versa?
Much of my research and scholarship focuses on how we need to do more to protect ordinary investors and consumers from bad financial advice. Because of the risks lurking out there, I helped coordinate a project to provide pro bono financial planning assistance for the survivors of the 1 October shooting in Las Vegas. That project is available here. We brought together fee-only fiduciary advisers affiliated with the CFA Institute, the National Association of Personal Financial Advisors, the Garret Planning Network, and the Institute for the Fiduciary Standard. Collectively, these advisors stand ready to volunteer their time to help survivors.
Also on the service front, I was recently elected to the Board of the Public Investors Arbitration Bar Association (PIABA). Serving on PIABA's board has allowed me to combine my research interest in corporate governance with investor protection issues. In November, PIABA released a report on FINRA's governance that I co-authored. We also published an op-ed about the issues we raised in The Hill.

What is it about being a law school professor that inspires or motivates you?
I absolutely love being able to promote our students and introduce them to new ideas. Earlier this semester, we brought representatives from the U.S. Securities & Exchange Commission to meet with our new Investor Protection Clinic. Next week, we're flying the students to Washington to have them at the SEC's Investor Advisory Committee meeting. We're hoping to use the time productively and meet with regulators at the SEC as well as Congressional representatives.