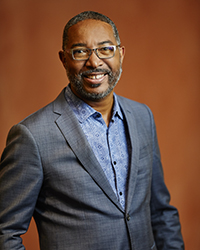 What's the most important thing you are working on right now?

I'm very excited for the Program on Race, Gender & Policing's Forum on Criminal Justice & Immigration: Where do the Democratic Presidential Candidates Stand? from 6:00-8:00 p.m., this Tuesday February 18 (with food from 5:00-6:00 p.m.) in the Thomas & Mack Moot Court. We will have experts who are law professors as well as community activists discussing the best and worst proposals. Professor Stewart Chang will moderate the panel and myself, Professor Addie Rolnick, and Professor Michael Kagan will help formulate questions.
As a general matter, the Program explores the relationship between race, gender, and the ways people are policed. Policing refers to not only the activities of law enforcement officers, but also the ways that other actors, such as immigration officials, prison officials, schools, and private citizens, participate in surveillance and control. More information on the Program can be found through this link.

How do you approach teaching your favorite topics? Your least favorite?

I'm proud of my recent article with Boyd's own Professor Ann C. McGinley on Intersectional Cohorts, Dis/ability, and Class Actions, which is forthcoming any day now in the Fordham Urban Law Journal. We discuss the class action suit under disabilities law by poor black and Latinx students in Compton, California seeking changes in the schools based on their widespread experiences of trauma. We carefully consider the facts but also discuss how the theory that dis/abilities are socially constructed—e.g., not having ramps makes people in wheelchairs dis/abled—implies the need for a different approach to disabilities law. Specifically, we want the courts to recognize that when a social group is discrete and cohesive, as are poor black and Latinx inner-city students who have suffered trauma, it constitutes an intersectional cohort that satisfies the requirements for class actions. We are very grateful for the advice of our Boyd colleagues Professor Lydia Nussbaum, Thomas Main, and Jeff Stempel during our editing process.