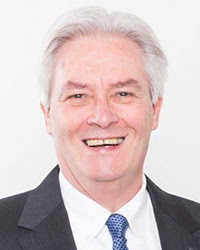 What's the most important thing you are working on right now?
Currently, multiemployer defined benefit pension plans provide 10 million Americans with a lifelong stream of income. Some of these plans face significant financial pressures that jeopardize not only retirees but also the Pension Benefit Guaranty Corporation (PBGC), the federal agency tasked with guaranteeing defined benefit pensions. Perhaps the most critical issue I am currently working on is the effort to preserve the multiemployer pension system so that it fulfills its promise to workers to provide a lifelong stream of retirement income without forcing employers to choose between their business and their employees' pensions.

How does your "day job" affect your teaching?
In practicing employee benefits law, you work on solving problems your clients bring you that can touch on labor law, tax law, trust and estate law, administrative law or criminal law but often call for the application of common sense and courtesy. For example, a plan that provides for hardship distributions from a 401(k) plan to avoid foreclosure or eviction of a primary residence requires the participant to provide evidence that he or she is facing foreclosure or eviction. Since neither the plan document nor the statute required "imminent" foreclosure to qualify for a distribution, I recommended (in my capacity as fund counsel) that the participant's appeal be granted and that the administrator cease using such a strict standard. After all, notwithstanding the need for employee benefits lawyers, the real purpose of employee benefits law is to pay benefits, not lawyers.
How do you see the legal profession evolving in the next ten years or so? What does that mean for legal education?
With infrequent use of trials in civil litigation, lawyers will be using new tools and techniques to continue in their role as the leading actors in our culture's non-violent dispute resolution efforts. Lawyers will be resolving disputes through negotiation, mediation and other forms of ADR. Skills that are now applied to trial and litigation such as research, analysis, oral and written communication will be applied in new forums to do the same work of resolving disputes under the law. In our own lives and in our practice of law, we should, to paraphrase Haile Selassie, endeavor to be more courageous, greater in spirit and larger in outlook to resolve those issues that challenge humanity as we move into the future.