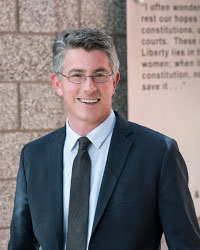 You're the director of the UNLV Immigration Clinic, which has been in the news recently. What's going on?
For years we have been saying that Las Vegas is a deportation defense desert. We have one of the largest immigrant populations in the United States, but while other cities had established publicly funded deportation defense programs, we didn't have anything like that here. That's changing now. The State of Nevada and Clark County together have appropriated $1 million over two years to our clinic to expand deportation defense in Southern Nevada. It's a big moment. It's a big step for our community.
What will the new money be used for?
We are opening a new, off-campus Community Advocacy Office, and we are hiring new staff to be able to serve more people. We are building the new office layer by layer, staff position by staff position. Once the office is operating, we will be able to start adding student opportunities, too. We needed more office space to expand, but we have also known for a long time that it is hard for the people we serve to access our office at the law school. I think having an off-campus office serving the public is a great message for Boyd and UNLV. We are not an island. We are connected to the community from which we come. We've also formed a Community Advisory Committee composed of key members of the public to give us input on the direction of the new office. I'm excited we will be able to start making announcements over the next few months so people will be able to see this take shape.
What services will the new Community Advocacy Office provide, and how will it work?
We will offer free legal defense to people fighting deportation, specifically unaccompanied children and people in immigration detention. And we will continue to offer immigration assistance to members of the UNLV and CSN communities, as we do now. We're very aware that this is only the beginning. We won't have the resources to help everyone, not even all of the kids and detained adults who would be eligible. But this is a start. Our goal is to build an institution to last, that will grow and serve more and more people years in the future.