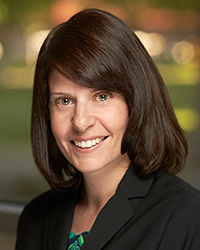 What interesting things are you working on right now?
I am working with researchers at Johns Hopkins University, the University of Michigan, Boston University, and the American Medical Association on an application for a research grant that will assess public and patient attitudes regarding grateful patient fundraising, which is the solicitation of funds from patients who are, or who may be, grateful for the health care they have received. We hope our research will inform institutional fundraising policies as well as federal and state regulation in this area.

Which of your recent articles should I read?
I would suggest my forthcoming Iowa Law Review article titled "A Timely Right to Privacy" and my forthcoming Alabama Law Review article titled "A Right to Care." The first article catalogues and assesses all of the Department of Health and Human Services' enforcement actions involving violations of federal health privacy and security regulations, finding a lack of timely attention to the privacy and security rights of individuals. The second article examines the impact of President Trump's incremental health care reforms on non-Medicare coverage of skilled nursing care, physical therapy, occupational therapy, speech-language therapy, respiratory therapy, and cognitive rehabilitation. As background, a federal court in January 2013 ordered the Medicare Program to cover skilled care and therapy services for beneficiaries with chronic and progressive health conditions, even if their conditions were stable but no longer improving. My article shows that 84% of state-selected benchmark health plans still require non-Medicare insureds to demonstrate improvement before insurance coverage will occur, thus challenging prior scholars' assumptions regarding the influence of Medicare law and policy on non-Medicare insurance. My article also shows that recent regulations proposed by the Trump administration may increase the percentage of health plans that do not follow Medicare law and policy on this issue.

What is your favorite part of your job as a law school professor and as founding director of the UNLV Health Law Program?
Hands down, my favorite part of my job is seeing my students accomplish their career goals. Our students obtain jobs in large and small health law firms, federal and state health and social services agencies, local departments of health, general and special hospitals, public and private academic medical centers, and for-profit and not-for-profit health care institutions. They keep me on my toes!