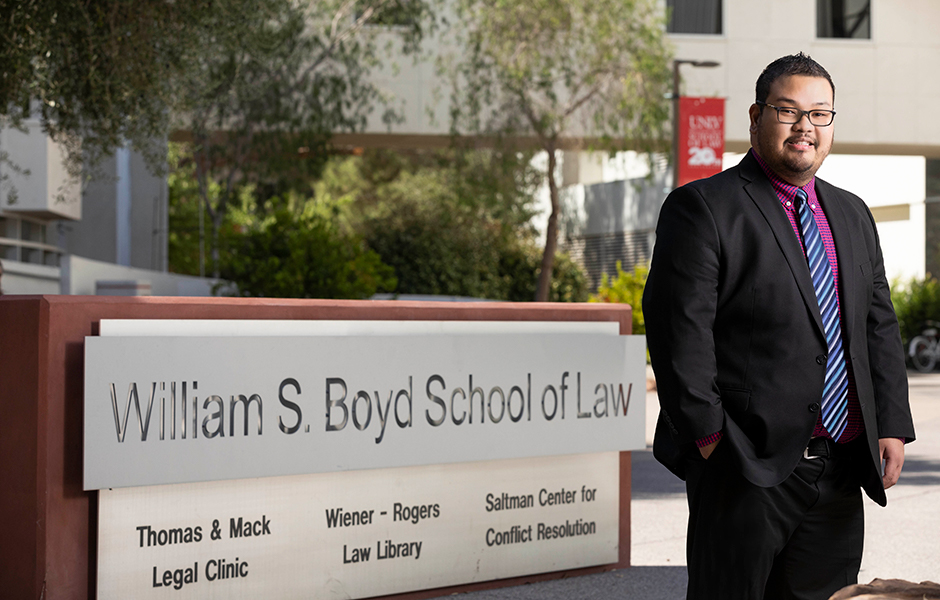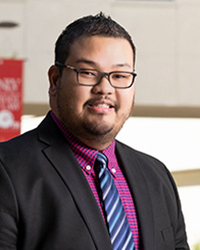 Alternative dispute resolution can sometimes be a tough sell to law students who have long dreamed of a career as a trial lawyer arguing high-profile criminal cases before judges and juries. Boyd student Robin Gonzales is one exception—and for a very good reason.
Growing up in the Southern Philippines, Gonzales was a witness to near-constant chaos and strife resulting from sociopolitical and religious upheaval in his surrounding region. As such, Gonzales became somewhat numb to conflict at a very young age. He also became very interested in learning all he could about the subject.
"In the Southern Philippines, I was exposed to kidnappings, isolated bombings, and rebel insurgencies. But I didn't see it as that big of a deal because I was living it," says Gonzales, who is a 3L at Boyd. "So I became comfortable with high-stress situations, which led me to be fascinated with what causes conflicts and how to resolve them."
That fascination followed Gonzales to the United States in 2010, when he immigrated to Las Vegas and enrolled at UNLV. As an undergraduate, he not only double-majored in political science and English, but he was one of the first two students to earn a Brookings Public Policy minor from the Brookings Institution. Additionally, Gonzales wrote an award-winning honors thesis on international political conflict resolution, and served for two years as chief justice for UNLV's Judicial Council, routinely hearing cases ranging from scholarship appeals to disciplinary issues.
Naturally, when it came time to choose a law school in 2016, Gonzales looked for an institution with a strong dispute-resolution focus. Turns out, he didn't have to look very far, selecting UNLV Law in part because of its focus on and commitment to alternative dispute resolution through its celebrated Saltman Center for Conflict Resolution.
"I was involved in conflict resolution before law school, but for most law students, it's really hard to grasp what alternative dispute resolution (ADR) is, because it's not its own specialty field; it's built into all the different [legal] fields," Gonzales says. "So to be an effective practicing lawyer, you need to have strong ADR skills."
Not surprisingly, during his two-plus years at Boyd, Gonzales has fully immersed himself in the ADR world. For starters, as president of Boyd's Dispute Resolution Society (DRS), he's spearheaded programs designed to teach fellow students the importance of sharpening conflict-resolution skills, and provide those students with hands-on experiences. One example is the DRS community-service initiative in which Boyd students volunteer as "truancy judges" for the Clark County School District. The objective: Use conflict-resolution techniques to help kids get back on the right attendance track so they can complete their degrees and graduate on time.
"Robin has breathed new life into the Dispute Resolution Society," says Lydia Nussbaum, a UNLV Law Associate Professor and the Associate Director of the Saltman Center. "He's brought incredible energy and creativity to the work of this student group. With his colleagues, he has organized important events and invited well-established guest speakers to provide substantive events for law students."
In addition to leading the Dispute Resolution Society, Gonzales has been an arbitrator with the Saltman Center's Parking Appeals Arbitration Program; he's currently assisting with cases in UNLV Law's Family Mediation Practicum; and he serves as a Saltman Fellow. In the latter role, Gonzales helps with scholarly research for faculty, brainstorms ideas for Saltman Center-led events, and generally acts as a student ambassador.
Occasionally, that ambassadorship has extended beyond Nevada's borders. For instance, in spring 2018, Gonzales earned a scholarship to attend the annual meeting of the American Bar Association Section of Dispute Resolution in Washington, D.C., then wrote a paper about his experience. That was followed by a mid-October trip to Chicago, where he attended the 11th annual meeting of the Clinton Global Initiative University, for whom Gonzales is a Commitment Mentor for Dialogue and Conflict Resolution. In that position, he works with student leaders around the world on conflict-resolution projects, helping them develop goals and sustain their progress.
After returning from Chicago, Gonzales turned around the following weekend and traveled to St. John's University School of Law in New York, where he was part of a three-person team that took part in a national competition dubbed the Securities Dispute Resolution Triathlon, which involved all three conflict-resolution methods: mediation, negotiation, and arbitration.
As for the legal path he plans to travel post-graduation, Gonzales—who is slated to earn his J.D. in spring 2019—says he's still undecided. But regardless of the field he enters, it's a safe bet that the 28-year-old will focus his career on helping clients settle their differences through alternative means.
"I haven't finalized my [career] plans, but I imagine I'll be involved in one dispute-resolution practice or another—whether it's contract negotiations, employment arbitration, or representing parties in settlement conferences or mediations," Gonzales says. "Because one thing I've learned is that dispute resolution is as much a part of the legal practice as litigation."