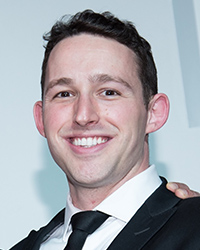 How, if at all, has your experience as a college policy debater helped you in law school?
College debate is a team-oriented and research-intensive activity. I spent each year focused on a topic that asked whether the federal government should change public policy in a specific area of law. Because we spent so much time researching, I became familiar with a lot of topics discussed in law school. More importantly, it taught me how to prepare and analyze arguments. We would do so in a way similar to how you might litigate: researching our arguments, preparing for our opponent's, and thinking about the strongest counter-arguments to each.
Which Boyd faculty member has left an indelible impression upon you?
This is tough. [Adjunct] Professor Joe Regalia fundamentally changed my writing and taught me how to edit. But more recently, Professor Anne Traum has been an incredible influence. In her appellate clinic, she has taught me how to think about appeals thoroughly, the work ethic you need to succeed, and how to strategize when the record is stacked against you. I will take many of Professor Traum's lessons with me into practice.
Let's say you owned a primitive mobile device that allowed you but one music download. What would it be?
"The General" by Dispatch. You smile, you laugh, you cry; it's a great song all-around.
What's the master plan following graduation in May?
After graduation, I'll be clerking for Justice James Hardesty of the Nevada Supreme Court and then returning to Las Vegas. I want to learn how to be an attorney first and continue connecting with the Las Vegas community. But I eventually want to either run for office or go into the public sector. I love law because I love solving problems. Government is a great place to do that.