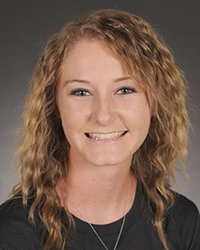 What did you enjoy most about your collegiate tennis career, first at Morehead State and then at UNLV?

At Morehead, I most enjoyed the camaraderie and small campus atmosphere. Once I transferred to UNLV, I still felt a camaraderie with my teammates, but I missed the small campus community; however, I greatly appreciate the opportunities that UNLV's larger campus provided me. My time at Boyd has proven to be the best of both worlds -- the resources of a larger institution, but the small community with friendships and relationships that will last a lifetime.

Is there a particular tennis player you tried to emulate?

I honestly never tried to emulate a player as far as my actual game was concerned, but I was always drawn to players with good attitudes and work ethics, and I would try to mimic those qualities — my mimicking has definitely improved as I've gotten older.

You recently participated in the Major League Baseball Arbitration Competition at Tulane University Law School. How was that experience?

The MLB Arbitration Competition was an incredible and unique experience. Because most of the arbitrators are either sports agents or in-house counsel for professional baseball teams, the arbitrators' feedback was practical and informative, as opposed to feedback about how to excel in other competitions.

What course that you've taken at Boyd has most influenced your career aspirations?

Initially, I figured that I would go into tax law, as my undergraduate degree is in Accounting, but a good friend, Robin Gonzales, informed me that I am a woman of "fleeting passions." Because of my "fleeting passions," all of my classes have been influential. Frankly, the professors have been more influential than the classes themselves. The guidance and support I have received from the professors at Boyd has been invaluable.