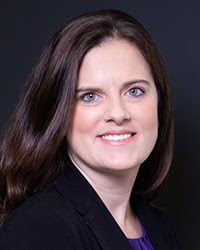 You are a law student, your husband is in the Air Force, and your kids are...well, kids. Is making all that work as challenging as it sounds?
It is a balancing act and team effort! My husband and I are constantly comparing schedules for the family. I have also learned to ask for help! At times, this has meant having family travel to Las Vegas to help with the kids when my husband is away on assignment with the Air Force. It has taken a village!
How did your work as a paralegal with 2002 Boyd alum Leah Martin inform your decision to go to law school?
I was a paralegal for 10 years prior to law school, but attending law school was always the goal. It wasn't until the Air Force brought us to Las Vegas and I began working for Leah that the goal became a reality. Leah encouraged me to consider Boyd and was flexible with my work schedule during the application process.
Do you get any "me" time and, if so, what do you do with it?
As a mom and law student, "me" time is rare and fleeting! As a family, we love to disconnect from the world by going camping in Utah. When I do get time to myself, I like to read and to sneak away to the spa.
What's next for you after graduation in May and the bar exam in July?
I will be sitting for the bar exam in Indiana as we intend to move there within a couple of years after graduation. However, after taking the bar exam, I will return to Las Vegas to work for Maier Gutierrez & Associates as a law clerk and then, after passing the bar exam, an associate attorney until we move.