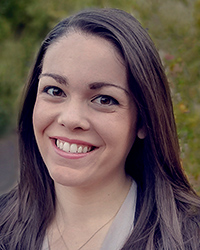 Prior to entering Boyd, you worked for Cirque du Soleil. Was that as exciting as it sounds?
Absolutely! I had so much fun working for Cirque and wouldn't trade those years for anything. The shows employ people from all over the world and all walks of life, and everyone has a story to tell. Plus, being backstage on a show of that size means you have to stay constantly on your toes and be ready for anything. That's certainly served me well in law school!
Your father is a law librarian. How did that influence your decision to go to law school?
It's a little dramatic to say that Dad is 100% the reason I'm in law school, but that's honestly close to the truth. When I decided I wanted to make a career change, I thought back to the work I'd done in the past that I had enjoyed and found fulfilling. I realized that the research projects I'd done for Dad over the years had really influenced what I wanted in a career. I loved the challenge of legal research and knew that I'd never get bored in a career in the law.
In your Top Ten Moments at Boyd, which is #1?
Arguing a case in front of the 9th Circuit with the Appellate Clinic is definitely #1. Professor Anne Traum has been such a great mentor this year, and I was honored to represent our client in that important moment!
Graduation approaches quickly. What then?
After the bar, I'll spend two years clerking: first, for Judges Andrew Gordon and Jennifer Dorsey at the Federal District Court for the District of Nevada, then, for Judge Jay Bybee at the 9th Circuit. After that, I'll join O'Melveny & Myers in Newport Beach, California as a litigation associate.