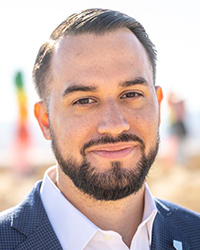 You petitioned the State Legislature during one of the most unusual legislative sessions in state history. What was that like?
I think it's safe to say that it was a difficult session for everybody. It was difficult because of the ongoing pandemic, the financial uncertainty the state was facing, and adjusting to the technological aspects of an online full session. Like with anything else, I had to adapt, and this shows the importance of preparation and building a strategy during the interim. While I'd welcome a return to a normal session next time around, in some ways the online session gave more people access to the process. It is expensive for people to travel to Carson City from the southern part of the state, so this opened things up to those who were previously unable to participate. Of course, there were some technical quirks, but the legislative staff did an incredible job adjusting and improving the process as the session went on. Overall, this session was certainly a challenge in terms of its cadence and pace, but everyone was able to roll with the punches.
What has been your favorite class in law school so far?
I really enjoyed Law and Leadership with Governor Sandoval. That's probably the class I'll remember most ten years from now. It was the least "legal" class I have taken in law school, but it was a tremendous experience being in a classroom setting with him, learning from his stories about his career as well as his perspectives looking back on the key decisions he's made. He assigned outstanding readings that I've since returned to and also shared with colleagues and friends. Governor Sandoval took the class seriously and gave genuine and detailed feedback on our reflection papers.
When you're not working or going to class, what's your favorite thing to do?
What I do to relax is to cook. One of my Covid hobbies to get me through was to cook. I've always enjoyed cooking but had the opportunity to do more of it since I was home more often. With the weather changing, I am probably due to make another batch of my spicy chicken tortilla soup. I wish I had more time for it, but I still try to cook lunch and dinner for myself at least a few times a week now that my schedule is closer to what I'd consider normal.