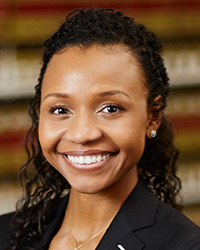 Tell us about your undergrad years studying chemistry at Syracuse University?
It was rigorous and challenging. Biology, physics, organic chemistry, physical chemistry, and biochemistry were among the spectrum of classes required for my major. Learning to admit which skills needed more work, or that I needed to develop, to perform well became a great lesson before entering the real world. It wasn't the best feeling when I stayed in all weekend to study while my friends were out enjoying themselves, but through that, I had to develop a level of discipline and balance which has proven helpful time and again. Although I was a ways from home, beginning to learn who I was as an adult was an exciting period in my life. I would not change it.
What have you learned from serving as Editor-in-Chief of the UNLV Gaming Law Journal (GLJ)?
I've learned a lot about working with others in a setting where I'm managing their work. Without students devoting the little free time in law school that they have to publishing this journal, there would be no GLJ. I've learned the importance of understanding that everyone works differently and is motivated differently, and that respecting these differences is crucial to publishing work of which we can all be proud.
Who is someone you strive to emulate?
There is no one person that I strive to emulate, but rather characteristics and qualities of different people I admire professionally, that include the ability to perform very well and quickly while under pressure, mental endurance, an unwavering curiosity to learn more about the law, and a humility and kindness that remains constant despite added achievements and successes.
You graduate in May. Then what?
After taking the bar, I will be clerking for Chief Justice Mark Gibbons of the Nevada Supreme Court.