Friday, September 21, 2018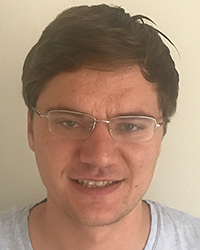 How does an east coast guy, born in NYC and educated at Columbia, decide to go to law school in Las Vegas?
My wife and I decided to leave the east coast, so we looked at schools all around the country. I was very impressed by Boyd's legal writing program, its job placement statistics, and its outreach to the local immigrant community. We also found that Las Vegas offers lots of the attractions and amenities of a larger city without the price tag. We love living here!
You lived and worked in China many years. Tell us about that experience.
I spent four-and-a-half years in northeast China — Jilin City and Changchun — after finishing undergrad. I taught ESL to students of all ages, developed and taught a medical school writing program, and started a small educational consulting and tutoring business with my wife. Teaching and mentoring motivated young people was incredibly rewarding, and immersing myself in a very different culture was a great reminder that our common bonds of humanity unite us despite our cultural differences. And authentic Chinese BBQ and hot pot are just so good!
You are one of the founders of Boyd's Board Game Recreation Society. What prompted that initiative?
We all know that law school can be stressful, and I wanted to create an organization that would promote productive study breaks and bring people together. While the organization is centered around board games, it is more about meeting new people, relaxing, and having some fun. We are looking forward to having many exciting events and regular board game hang outs this year!
So if I told you that you could play but a single board game for eternity, which would you choose?
Monopoly. It's a classic that never gets old.