Friday, November 12, 2021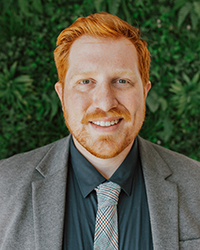 What brought you to Las Vegas/UNLV/Boyd Law?
I was applying to law schools in the early days of COVID-19, so the extent to which I could visit schools was fairly limited. Boyd far and away was the best at communicating with me and answering my questions, even while the world was adapting to remote work and education. Even though I had a handful of schools that I thought would be a great fit, Boyd really separated itself in that way (shout out to Dean Wall and everybody in admissions).
My wife, Kiffyn, is from Vegas, and we moved here briefly (before going back to Utah for our undergrad degrees) when my daughter was born. Deciding to come to Vegas was a really natural decision for myself and my family. My daughter will be ready to start school soon, so we wanted to make sure that wherever we moved for law school was a place we could see ourselves staying long-term, and Vegas absolutely fits the bill.
Beyond all of that, I've always looked at myself first and foremost as a writer, so knowing that Boyd has the country's top legal writing program and puts an emphasis on communications was a big selling point. Writing is a skill that will manifest its value regardless of what field of law I work in, so coming to a law school where I can make that a focus was something I definitely took into consideration, and something that I've been able to utilize since I've been here.
You're the new Saltman Center for Dispute Resolution Fellow, tell us what has brought you to an appreciation for ADR.
Before coming to law school, I worked in a few different roles that showed me how valuable ADR is in all sorts of situations, both strictly legal and otherwise. I was lucky enough to write and publish studies on employee compensation and benefits, and I also got the chance to work (as part of a team) with organizations to resolve compensation and benefits issues.
One of the things I noticed is that many problems boil down to communication issues – if you can figure out the science of how to analyze data and communicate it effectively, solving problems becomes a lot simpler. ADR is a vehicle to do exactly that.
The Saltman Center is one of the country's best when it comes to dispute resolution. It's been enlightening to work with everybody involved with the Center, and I'm learning a ton.
You also work as a research assistant at the Wiener-Rodgers Law Library and as a staff editor for the UNLV Gaming Law Journal, how do you find the time?
That's a question with an easy answer – I don't! Truthfully, in some ways, it's been a blessing to have a lot of different roles. I realized pretty quickly that if I wanted to give law school all of my time, law school would gladly take all of my time. Having opportunities to work on different things keeps me from sailing too deep into the law school ether and makes me find efficient ways to study.
I won't pretend to be perfect at staying on top of everything all the time, but it's definitely worth it to be able to work on so many interesting projects. I also enjoy my Fridays, when I work a regular nine-to-five day and can fool myself into thinking I'm on a normal human schedule. I don't expect to stop being busy any time soon, though, so I'm happy with this as practice!