Friday, February 22, 2019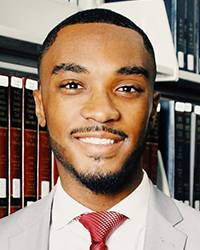 Your undergraduate study and work experience prior to law school were in the computer/information technology field. How do you anticipate that background will meld with your legal career?
I think my technical background will blend nicely with my legal career. As technology continues to advance, I anticipate my computer science/information technology experience will position me uniquely in the Nevada legal community, namely in intellectual property, gaming, and cyber-security law.
Tough call, I'm sure, but what's been your signature moment as a student at Boyd?
That is tough! I have had so many great experiences during my time at Boyd, from participating in the inaugural Intellectual Property community law class to working in the Immigration Clinic. But if I had to choose one, it would be competing on the Black Law Student Association (BLSA) Mock Trial team. Our team put in some late nights and long hours, so to see our work manifest itself in a second place finish at regionals and an appearance in the national competition was extremely rewarding.
Tell us about someone who helped you find your direction in life.
Not necessarily someone, but some people. I have to give credit to my pastors—Dr. Phillip and Dr. Patricia Owens — and my church family at Immanuel's Temple. I think it is so true that "it takes a village to rear a child," and I have been fortunate to have pastors and a church family that have made it their mission to provide me with guidance and direction throughout my life.
Coming soon...graduation in May...the bar exam in July...so...what comes next?
After graduation and the Nevada Bar exam, I am elated to share that I will be joining the Dickinson Wright Las Vegas office as an associate in its Intellectual Property and Government Affairs departments.