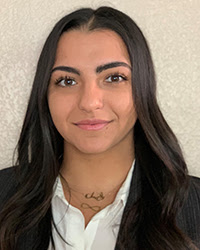 You are the president of the Middle Eastern Law Students Association. The group has had a busy year, yes?
Absolutely! I have been so happy with our organization's accomplishments. We have been trying hard to hear students' needs and meet them the best way we can through keeping the Boyd community connected. We've tried especially hard to put on events during Covid times like park day, the belly dancing fundraiser, and the diversity panel to keep spirits alive. I feel honored to be able to help run an organization that has worked so hard to put these events and fundraisers together.
How did your previous work experience with the Clark County Department of Business License move you in the direction of law school?
Being so focused on criminal law most of my college career, it was nice to be able to see one aspect of regulation that plays such a huge part of what makes this city so great. I enjoyed seeing how local regulations come into play in licensing places like your favorite neighborhood restaurant. Processing licensing applications coming in from these big law firms also made me realize how many options I would have in deciding to pursue a career in law.
What is the funniest thing that's ever happened to you?
There being a fine line between funny and embarrassing... When I was a kid, I decided it would be a great idea to walk into a goat's pen with a cup full of goat food. You could probably imagine what happened next. Thanks to a baby goat named Kiss, I am still hesitant around goats to this day.
When life returns to something like normal, what are you most eager to do again?
Aside from seeing my friends and family regularly, I am so excited to be able to go out and dance! Although I'm not very good, I miss being able to hit the dance floor and show off my cheesy moves.