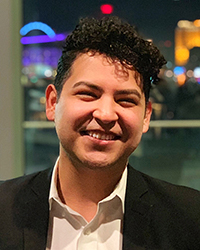 Tell our readers about your path to becoming principal violist for the Henderson Symphony Orchestra.

In the summer before the final year of my undergraduate studies I was still seriously considering pursuing a master's degree in music. My orchestra director here at UNLV—Professor Taras Krysa—was the musical director of the Henderson Symphony Orchestra, and he encouraged me to apply. I was thrilled when I won the audition. The HSO programs a lot of bold repertoire that you don't often get to perform at a university-level orchestra. I know that the discipline that it required has made me a better leader and law student.

How has Huellas (the mentorship program run by La Voz, Boyd's Latino law student association) shaped your path to and through law school?

I joined the Huellas program during my undergraduate studies. I was lucky enough to have been paired with Judge Bill Gonzalez at the family court. As a person of color, it's very encouraging to get to meet and interact with someone who shares your background and who has found success in a path that you want to pursue.

What are your plans following graduation in May and the bar exam in July?

I'm very excited to have accepted an offer to join Bailey Kennedy. They have been very supportive of my desire to clerk, so I am still pursuing a couple opportunities on that front.

So returning to the initial subject, which musical piece is your favorite to perform?
I love performing "Sonata for Viola and Piano" by Dmitri Shostakovich. He lived a very difficult life in Soviet Russia and wrote the piece on his deathbed. It's full of themes relating to death, fear, and regret. It's a somber but powerful piece of music that I always go back to.