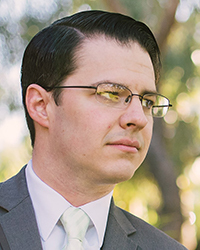 Teacher by day, student by evening – how's that daily role reversal been working for you?
Excellent. Effective instructors never stop learning, so it feels natural. My students benefit from it as well as I am able to bring what I am learning in my classes to them. The time commitment can be a challenge for my wife and me, but we find a way to make it work.
And you were able to bring the law school to your classroom last spring, right?
Yes. I had the Street Law program in my classroom for about six weeks. Judge Sullivan came to Chaparral (High School) and presided over a mock trial competition. My students loved it.
Tell us about your previous work at the Brookings Institution.
I was a research analyst for an economic development program here in Nevada. My job was to monitor and evaluate how Nevada was implementing the economic development model proposed by Brookings and adopted by the state legislature and Governor Sandoval. I was able to speak with stakeholders throughout the state's economic development apparatus, both public and private, attend board meetings chaired by the Governor, and meet many different people trying to diversify our state's economy. Once a year I would travel to Washington, D.C. and New York City to report back to Brookings and to the Rockefeller Foundation, both of which funded the project.
Whose teaching style at Boyd most closely resembles your teaching style at Chaparral?
Professor Ian Bartrum. He was a teacher in the past and it shows in how he presents material and uses quizzes at the beginning of each class to help students recall material. If you add a few absurd examples here and there, perhaps like our former Professor Chris Blakesley would do, you've got how I approach instruction.