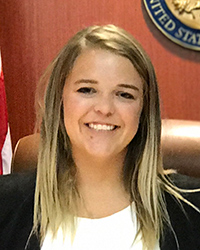 How have you reconciled your northern Nevada roots and your UNR undergraduate past with your southern Nevada/UNLV/Boyd present?
I have reconciled the battle between North and South by recognizing the important roles each play for Nevada's future. There was hesitation in choosing Boyd—particularly when it came to telling my parents. After two years here, I still have heated discussion regarding NEVADA (not UNR) sports teams, but I appreciate the two communities are intertwined and support each other.
As the driving force behind Boyd's Golden Knights Tuesdays, what are your reflections on our team's remarkable inaugural season?
Like a lot of Nevadans, before this season I had not watched a single hockey game. Thankfully, fellow students—Brendan McLeod and Patrick Harrington—introduced me to the sport. This year was not only historic, but a lot of fun to watch. At the start of the season most sports commentators predicted the Knights having "the worst record of NHL history." Boy, I am glad they were wrong.
Best class you've taken at Boyd was...
… Professor McGinley's Gender Seminar. We interviewed legal professionals about the role gender plays in the Vegas legal community. The course was both enlightening and somewhat terrifying, but it provoked thought that I had never previously encountered.

Who is the superhero you most aspire to emulate?
I have two answers for this one (hopefully that's allowed). The first superhero I aspire to emulate is Wonder Woman. Not only because she is the first actual female powerhouse of the superhero world, but because she is able to show compassion and strength are not competing forces, rather they are necessary attributes. The second superhero is my grandpa. He is the most kindhearted, loving, caring, and courageous person I know. I strive to be even half the person he is.