Tuesday, November 23, 2021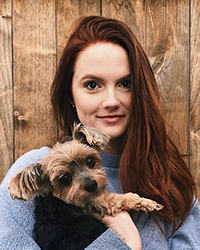 What has been your favorite thing about law school so far?
My favorite thing about law school is finally feeling like I'm on the right path! For much of my high school and college career I had no idea what I wanted to do or even what I was interested in. Now, I have a cohort of friends who are interested in similar fields, I'm learning from professors who are there to offer a helping hand, and because of that (and so much more), I'm so eager to start my career!
Tell us a bit about your work at UFC?
I currently work at UFC as a legal & regulatory intern. The experience has been nothing short of amazing. Not only are there amazing perks such as meeting Dana White and going to fights, but I'm also getting experience in the field I want to practice in. My typical day to day consists of ensuring future merchandise follows trademark and copyright law, drafting contracts and agreements, and dealing with the day-to-day of the business. It's been an unbelievable opportunity to learn about intellectual property, sports, transactional, and in-house work.
What's your study snack of choice?
My study snack of choice is a white monster energy drink and Cheez-Its! (Absolutely foul, I know)