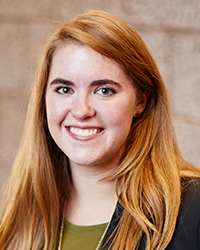 How goes your first semester of law school?
I'm having so much fun! It's a bit disconcerting because there aren't very many benchmarks as to how well I'm actually doing, but I'm trying to measure myself off how well I can mentally respond to professors' answers in class and taking a few practice exams (with variable success). My professors and classmates are incredible.
You and others are working to create a new student organization at Boyd. Tell us about that enterprise.
Our organization is the Organization of Psychology and Law (OPAL). Our goals are to highlight gaps between current advances in psychology and how the law actually treats individuals with particular psychological needs. We want to bring in experts to educate law students as well as judges and laypeople. Some areas for discussion are current problems (such as issues relating to qualification of experts), strategies for lawyers (such as how to recognize whether a claim might have a psychological element, even if the client is unaware of it), and, of course, everything that the legal community of Nevada is already doing well.
How does living in Las Vegas compare to living in your native Boise, Idaho?
Less grass, less trees, more blue sky, more people—and more types of people, which is refreshing. I will admit that I miss snow.
Everyone needs recreational outlets in their first year of law school. What's yours?
I've always loved writing fiction, and I love it all the more now that school is so focused on intaking massive amounts of information. Whenever school is more output-oriented, I'll gravitate towards reading, but for now, I'm using my downtime to generate original ideas. Also, law school itself provides so much (slightly distracting) inspiration.