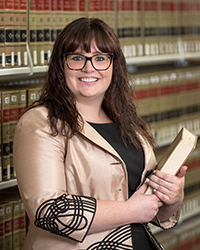 Tell our readers about your experience with the House of Commons in the UK.
Working in the House of Commons was an incredible experience. Because I am a dual citizen, I was fortunate enough to work with the Member of Parliament for the constituency where my grandfather lived and my mother grew up. Attending Questions with the Prime Minister, representing the MP at meetings, sitting in on various committee hearings, and meeting with constituents was extremely insightful. But the highlight of this experience was simply getting to walk the halls of Parliament and being surrounded by centuries of history daily.

How have you enjoyed your work in the JD/Masters of Social Work dual degree program?
I have enjoyed the dual degree program, but it has been challenging at times. The writing and interviewing styles of a lawyer and social worker are vastly different. However, the two programs complement each other and have allowed me to see problems in a more holistic light.
And how do you hope to put those two degrees to use professionally?
My long-term career goal is to become a capital defense attorney. While it is important to understand the law, these cases require talking to and working with a diverse community of people. Frequently, the client's background stands in stark contrast to my own. The social work education I am receiving gives me the knowledge, skills, and confidence to talk to individuals from all racial, ethnic, and socioeconomic backgrounds. I hope that the combination of these two degrees will enhance the quality of representation I can provide future clients.
Road trip or air travel?
Neither! I have come to love sea travel! Nothing beats the comfort of a cruise ship and waking up each morning to look out the window and see a new city!