Friday, November 16, 2018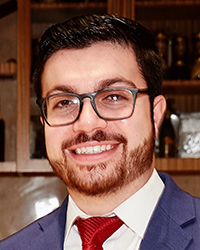 Tell our readers about your position here at UNLV.
In my current position in the President's Office at UNLV, I assist in managing a multitude of daily requests and providing responses to a diverse range of issues that are directed to the President's Office from various campus and community constituents. One of my top responsibilities is coordinating, drafting, and tracking all the time-sensitive Board of Regents' agenda item submissions for UNLV. It's been fun and, at times, very stressful.
How has working full-time on campus meshed with studying law at Boyd on a part-time basis?
Between my work and studying law, I put in around 70 hours/week. But fortunately, it has worked out great! This intense lifestyle has improved my organizational and time-management skills. I structure my "to-dos" by priority, live by a calendar, and recharge by traveling and exercising. Plus, having a 3-minute commute to class has been an added bonus!
You've probably had a chance to meet some interesting people in the course of your work here. Anyone stand out?
I've been privileged to have many meet-and-greets with interesting people in the course of my employment. This includes meeting a NASA astronaut, celebrities, higher-education leaders, and prominent political figures. The one that stood out the most was meeting Erik Weihenmayer, who is the first blind person to reach the summit of Mount Everest. He really inspired me and affirmed my belief that despite how many barriers you may face in this lifetime, you can breakthrough them (as he has done) and accomplish great things.
Which law school class has been your fave?
There are many, but I were to choose one, I'd pick Mediation Essentials. The skills acquired in that class have greatly assisted me in all aspects of my life—whether professionally or personally.