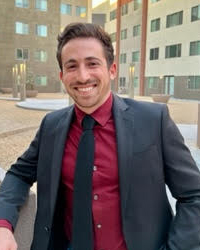 It's fair to say you'll have a slightly different summer than your classmates...what are your plans for your 1L summer?
I do have slightly different plans, instead of an internship, I will be away all summer on routine training with the Army. I am a Lieutenant in the Nevada Army National Guard and have been in the Army for about 4 years now. I manage a platoon of around 25 soldiers and plan trainings as well as lead and develop soldiers to promote and become leaders themselves. This has allowed me to meet a lot of really amazing people who have inspired me. I have learned a lot and really developed as a person due to my time in the military.
What has been your favorite class so far at Boyd?
So far I have really enjoyed Property with Professor Main, the class is very engaging and I find the material to be super interesting. I really enjoy his teaching style and am actually excited to do the readings each night. Even though we are only about halfway through the semester it has definitely been my favorite so far, but we will see if I still feel that way after the final exam grades come out.
What's your go-to activity when you want to get away from the law school grind for a little while?
I really think it is important to do activities that have nothing to do with law school to relax the mind and de-stress. To do this, I workout every morning before class and on the weekends I try to get outside and either hike, bike, or snowboard depending on the season. I find that this helps me relax and clear my mind, allowing me to focus better in class.