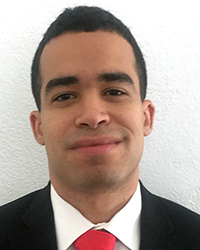 You attended and graduated from a virtual high school. What was that experience like?
I actually went to a few other high schools in Las Vegas. First Western High then Palo Verde. I was homeschooled my last year of high school – I only needed a few credits to graduate and didn't want to go to an actual school for two or three classes. I liked being homeschooled, because I could work ahead and finish assignments a lot sooner, and once I finished, I could just spend my free time playing video games.
Of all the courses you've taken at Boyd, which do you recall most fondly?
Civil Procedure with Professor Jean Sternlight was one of my favorite classes. It was where we learned how a case traveled through the legal system. I found the class to be very interesting and easy to follow because I was able to visualize the different stages on procedures.
What does it mean to you to have been awarded this year's Eglet Prince Scholarship?
I realized early on that an attorney who can write well is an effective advocate. I see this as an incredible opportunity to learn from great attorneys at an equally great law firm. At Eglet Prince, I get to practice and improve my legal writing to become that effective advocate. Less than two percent of civil case go to trial. I am extremely fortunate and happy to be at a firm that handles that two percent.
Who is your real-life superhero?
My dad. He (and my mom in case she sees this) has always supported and motivated me in everything that I've wanted to do. He is the greatest man I know, and he's my hero