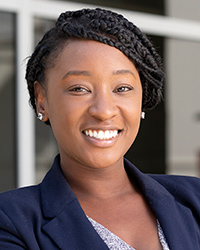 How was your summer?
My summer had nonstop activities! I worked full time at a law firm handling estate planning, bankruptcy, and domestic disputes, worked on an appellate criminal pro-bono case, took some courses, and traveled to California, Texas, and Arizona to visit family. It's been a crazy few months, but I enjoyed it.
You were born and raised in California. Having spent the last couple years in Nevada, how do you compare the two neighboring states?
The states have similarities and differences, both of which I appreciate. Nevada and California have exciting legal opportunities spread over an array of practice areas. While California has great beaches and beautiful weather year-round, Nevada has captivating desert mountain, canyon, and valley views.
What's been your most memorable experience at Boyd thus far?
Although taking a selfie with President Bill Clinton is high on my list, connecting with Nevada's African-American trailblazers takes the cake.
I am great friends with Christopher Guy, grandson of the Honorable Addelair D. Guy, III, Nevada's first African-American Deputy District Attorney and District Court Judge.
My first semester at Boyd, I received the Honorable Earl W. White, Jr. Scholarship from the National Bar Association, Las Vegas Chapter. The Honorable Earl W. White, Jr. was Nevada's first African-American Deputy Public Defender.
I also met with and hosted Justice Michael L. Douglas, Nevada's first African-American Supreme Court Justice, and Judge Tierra Jones, Nevada's first African-American female State Court judge. I am privileged and honored to dive regularly into Nevada's African-American history.
As this year's Student Bar Association president, what are your primary goals?
I am so proud of the SBA e-board our student body elected for 2018-2019. We are excited to serve and are focused: on vocalizing for the student body, creating an inviting and memorable environment, and strengthening connections between students and faculty to enrich the academic and professional experience. We are hard at work to kick these initiatives into gear. Stay tuned!