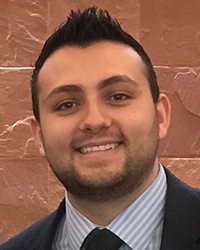 You were a competitive debater as an undergrad at UNLV. How has that experience helped you in law school?
My experience with debate helped me with many different parts of law school. It helped me get over most anxiety when speaking in public. It taught me how to research and write fully formed arguments. Finally, it taught me how to think on my feet.
What class that you've taken at Boyd has most influenced your career outlook?
Thus far, the class that has most influenced my career outlook has been Trial Advocacy with [Adjunct] Professor David Schwartz. The practical knowledge I have gained during this class has helped me solidify my goal of being a trial attorney. I thoroughly enjoy his insight and the exciting guest speakers he brings to class.
You helped revive the Jewish Law Student Association at Boyd and are now its president. What are your hopes/goals for the group this year?
My goal for the Jewish Law Student Association is to create a strong network between the law school and Nevada's vibrant Jewish community. The legal community already has close ties with Jewish individuals and causes. I hope that Boyd begins to impact that relationship and finds a way to bring more to the Jewish community. This goal is not meant to be limited to Jewish individuals at all. Close ties to the Jewish community can help all Boyd students, and we hope to bring students of all denominations into our success.
What show do you recommend our readers binge watch?
Law students need to be able to unwind, and my favorite thing to do is to watch something with really stupid humor. Based on the many seasons, my favorite binge-worthy show right now is Impractical Jokers.