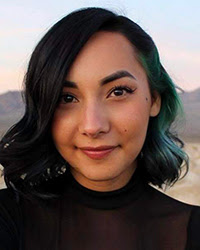 As you complete your time as a Boyd Public Interest Fellow, what are your reflections on the experience?
It feels unusual to be rewarded for public interest work, but it really put me in a position where I could comfortably dedicate my time to helping others without worrying about my ability to afford it. I also had an amazing support system in other fellows and administrators to whom I could go with ideas and share my passion.
Which law school course was your most memorable?
Definitely Employment Discrimination with Professor Ruben Garcia. I was the only first-year student in the class, and when I found out my LP II memo was a Title VII case, I think I cried. Plus, Professor Garcia has been my greatest mentor, providing me with guidance and inspiration.
If you could assume the identity of any living person for a day, who would it be?
I'd be President. I'd send resources to the southern border to help process asylum seekers in a just and efficient way, order the immediate release of children in detention, re-instate DACA, appoint people to positions of power who would govern with compassion and a sense of racial and economic justice, help in the recovery of Puerto Rico, and address the water crisis in Flint, Michigan. That's probably all I could do in one day.
A chapter closes when you graduate in May and take the bar. How does the next chapter open?
I will be focusing on deportation defense for people who are in detention. Nationally, only 37% of people secure legal representation in immigration court and that number drops down to 14% for people who are detained. I am excited to be filling this need locally!