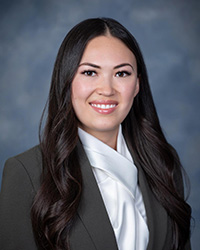 As president of Society of Advocates, what do you believe are the organization's noteworthy accomplishments this year?
This was a year of many firsts for Society of Advocates. We held our first virtual Client Counseling Competition last fall, our first virtual Nevada Justice Association Mock Trial and Schreck Gaming Law Competitions this spring, and we will hold our first virtual Clark County Bar Association Moot Court Competition this year as well. At the same time, many of our members competed virtually for the first time in competitions all over the country. These activities are the bedrock of our program. And though the pandemic has brought many new challenges, each of our members has worked extremely hard to ensure the continued success of SOA. I could not be prouder of everyone, and Paige Silva, Trisha Delos Santos, Graceanne Warburton, Casey Rosenberg, and Austin Wood in particular, for their adaptability and perseverance during these unprecedented times.
Which Boyd faculty member has been a difference maker for you?
Society of Advocates is privileged to have Cameron Lue-Sang as faculty advisor. He is forever exceeding my expectations—taking countless calls and text messages from me at odd hours and always making time to address the SOA Board's concerns. Cameron has a unique way of making everyone feel heard, and we are so fortunate to have his support.
What's the best way to start the day?
I try to start every day by choosing to believe in myself. No one can predict what the next 24 hours will bring, but when I wake up feeling self-assured, it is easier to see the hard parts through a positive lens. Lately, this really has been working for me!
When the pandemic is a thing of the past, what will you do first?
Hopefully, I will see some familiar faces from the Boyd community. I miss everyone dearly. Also, Disneyland!