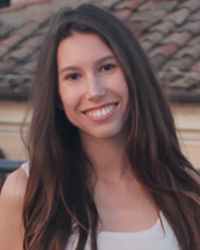 On one hand, home is Rome, yes?

Yes! R(h)ome is where I was born and where I recently lived for the past four years. It is truly an eternal city that has helped me not only grow, but also learn to love and appreciate the little things in life.

But on the other hand, home is Las Vegas. Tell us about the contrast.

I moved to Las Vegas with my parents as a child and stayed here until I was 17. It has definitely been interesting to experience not only culture shock upon my initial move back to Rome, but counterculture shock upon returning to Las Vegas. I think I'm still adjusting to the faster paced lifestyle of Vegas as opposed to the bella vita pace of Italy.

Is there a particular experience that inspired you to apply to law school?

There are actually a few experiences that inspired me to apply, beginning from my time as a peer counselor in the Trial by Peers program in high school to recently finishing up an internship with Amnesty International Italia.

You received the Italian American Club (IAC) of Southern Nevada Foundation scholarship this year. What does that mean to you?

I am beyond grateful to have received such a generous scholarship from the Italian American Club of Southern Nevada. I'm happy that my bi-cultural life experiences have been able to shape my persona the way they have, and that I'm able to embody many of the values that the IAC shares. It further makes me appreciate the role that my Italian roots have had on my life.