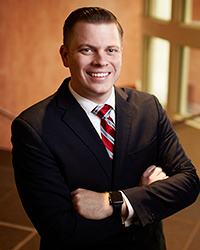 You're a literature guy. What is your "desert island" book?
I tend to enjoy classics in literature, which includes authors like Twain, Dostoevsky, Nietzsche, and Hemingway. That being said, I would likely choose the book Pudd'nhead Wilson by Mark Twain. Twain was way ahead of his time in writing this book, which is a modern day mystery that includes a commentary on the evils of bigotry and racism. I would highly recommend it for those who haven't read it.
Which course at Boyd has been your favorite?
I came to law school with an interest in constitutional law. So, naturally, my favorite courses have revolved around that topic. So I enjoyed both Con Law I and II. Administrative Law was likely my favorite so far because it dealt with the constitutional issues around the growing federal bureaucracy.
How did you enjoy your law firm summer?
I loved it! I was exposed to a variety of different practice areas, and I had the opportunity to work with talented, smart, and interesting attorneys. I think my writing drastically improved, as well as my knowledge of the law.
What's your mission as this year's Student Bar Association president?
First and foremost, I plan to make sure that all of the students' needs are met throughout this academic year. Law school is a challenging and intellectually rigorous experience, and it is my goal to make sure that the students have the support they need. Further, the SBA will ensure that all the student clubs and organizations have what they need to succeed.