Friday, September 28, 2018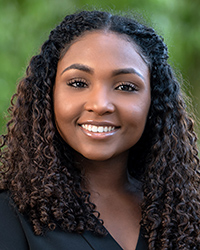 How was your transition from LA to Las Vegas?

My transition from LA to Las Vegas has been smooth thus far. I am still getting used to the Las Vegas Valley culture. Things are a lot slower, but the Strip and downtown Las Vegas make up for it. What I really love about Las Vegas are the outdoor recreational activities. Since moving here, I have picked up a new hobby: hiking.
You interned for the Nevada Federal Public Defender (FPD) last summer. Was it a good experience?
Interning at the FPD was such an amazing experience. I was able to work on my legal writing and analysis skills while also applying what I have learned in the classroom to practical scenarios. I was able to immerse myself deeper into the criminal justice system and discuss current issues within the system, such as prison reform and sentencing guidelines. Most importantly, I left the internship with amazing mentors and a network of attorneys who I feel have my best interest in mind both professionally and personally.
As this year's president, what are your plans and hopes for Boyd's chapter of the Black Law Student Association (BLSA)?
This year, BLSA plans to focus more on community service within Nevada. Our mission is to mentor students who are interested in higher education and empower the community in any way we as a cohort see fit. We also want to compete in the Constance Baker Motley Mock trial competition and hopefully place again so that our team can compete in the National BLSA mock trial competition.
You are comped airfare to any city on the globe. Where are you going?
I would go to the Amalfi Coast in Italy. I love Italian food and the scenery looks so serene. I would also like to look at the architecture and art galleries.