Reputation Is Key
Commercial litigation attorney Kelly Dove leads by example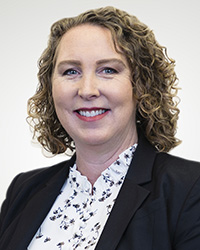 If Kelly Dove has any advice for law students, it's to start building your reputation early.
"I remember frequently being told during law school that Las Vegas is a small legal community," the William S. Boyd School of Law at UNLV alumna says. "Having practiced here for 15 years, I can absolutely vouch for that statement. No one is more than a degree or two of separation. … Be the person you want to be, and be seen as, starting in law school."
Now a partner at Snell & Wilmer, one of the largest law firms in the western U.S., Dove is a living testament to that statement.
Originally from the Philadelphia area, Dove always had an interest in law, though the only lawyers she knew were on TV. Even before landing at UNLV in 2004, she built a reputation as a dedicated, hard-working student. She earned two undergraduate degrees in philosophy and English literature, with a minor in mathematics, from Randolph-Macon Woman's College in Virginia. A master's in philosophy from Rice University in Texas followed.
With such a diverse, well-rounded education, Dove's career could have gone a number of different directions. But law was always lingering at the back of her mind. "I came back to my interest in law because I enjoyed analysis and writing. It turned out to be a very good fit," she says.
When she arrived at law school, Dove didn't even know what a clerkship was, yet she still managed to excel, earning a number of honors and serving as editor-in-chief of the Nevada Law Journal. She credits the faculty for her success. "So many of my professors gave advice and helped me make the most of my education and opportunities," Dove says.
She recalls competing in, and winning, the moot court competition at the end of her first year. "It was confidence-building and gave me a taste of what an appellate oral argument was really like—something I do now," she says.
After graduating from UNLV, Dove clerked for Judge Philip M. Pro of the U.S. District Court for the District of Nevada and Judge Jay S. Bybee of the Ninth Circuit Court of Appeals, before joining Snell & Wilmer in 2009.
As a partner at Snell & Wilmer, Dove focuses on commercial litigation and appellate law, counseling companies and individuals on matters ranging from fraud and breach of contracts to wrongful foreclosures and consumer protection. She also counseled plaintiffs in Sevcik v. Sandoval, Nevada's marriage equality case that would result in the Ninth Circuit declaring marriage bans unconstitutional in 2014.
Dove's reputation as one of the top attorneys in the state is solidified, and it's going to stay that way.
"I am very happy with what I am doing as an appellate and litigation partner at my firm," she says. "If I ever left this role, it would probably be to try to become a judge, but I am not quite ready for any changes yet."