Monday, November 29, 2021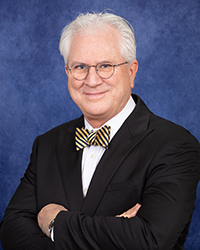 By Matt Jacob
Patrick Chapin's students know him as an affable guy with an abundance of legal experience, particularly in the realm of alternative dispute resolution (ADR). Those students also know Chapin as someone who believes in the concept of "learning by doing," a philosophy that guides his twice-a-week ADR in Employment Law course at the UNLV William S. Boyd School of Law.
Here's what those students don't know: Chapin mapped out his career plan at a young age, and becoming a law professor was nowhere to be found on that map. Heck, neither was becoming a lawyer.
"I was very much into science—specifically, biology and chemistry," Chapin says. "I was absolutely going to medical school."
Sure enough, after accepting a full-ride golf scholarship to Louisiana Tech University in the late 1970s, the Midwest native enrolled as a biology/chemistry major. But about halfway through his studies, Chapin began to question if he was heading down the right path. Steering that uncertainty: an old high school course.
"I took a mandatory government class during my senior year, and the teacher presented the material in a fun and interesting way that gave me a different insight," Chapin says. "I remembered thinking, 'Boy, I really liked that government class.' I soon came to realize that with my personality and skillset, I was probably going to be a better lawyer than a doctor."
So Chapin relinquished his athletic scholarship, transferred to Purdue University where he earned an English degree, then took off for law school. In 1993, he made his way to Southern Nevada and began working as a sole practitioner in civil litigation, eventually with an emphasis in employment law.
As the years passed, though, Chapin found himself resolving the majority of his cases not in a courtroom but at a bargaining table. Realizing this wasn't a temporary trend—and knowing that negotiating was one of his greatest strengths—Chapin decided to seek the skills and knowledge required to become an ADR practitioner.
That led him first to the Straus Institute for Dispute Resolution at the Pepperdine School of Law in Southern California, and then to UNLV Boyd Law's renowned Saltman Center for Conflict Resolution. Since receiving advanced mediation training at both institutions, Chapin has served as an arbitrator (neutral) and/or mediator for more than 350 cases in the past seven years.
During that time, Chapin's connection to the UNLV Boyd School of Law has strengthened. He has served as a mediation coach, guest speaker, panelist, and judge for various law school competitions. And three years ago, he took on the role of adjunct professor after working with Saltman Center founding director/Michael and Sonja Saltman Professor of Law Jean Sternlight, and Workplace Law Program co-directors/Boyd Law professors Ann McGinley and Ruben Garcia to develop the ADR in Employment Law course. The class, which currently meets on Tuesday and Thursday evenings, features mostly 2L and 3L students.
Adding adjunct professor to his already well-rounded résumé wasn't something Chapin planned—although he acknowledges it's a natural fit, given his penchant for mentoring and taking charge in given situations.
"For whatever reason, I've always seemed to be the one selected or appointed to be the leader [of projects] or the chairperson of committees or subcommittees," he says. "When I was younger, people jokingly called me 'professor' and often told me, 'You missed your calling; you should've been a professor!'"
As the title of his class suggests, Chapin provides students insights into how ADR principles apply to employment law, and which methods (mediation, arbitration, negotiation, etc.) should be used at different times. As for his teaching style, Chapin is quick to note that while he may be the guy in front of the class dispensing information, it's up to his students to drive the car. He's simply along for the ride.
"I'm not an academic," he says. "My focus is to bridge the gap from academic success to practical application, which is why half of the class is experiential. At some level, they teach themselves, and I guide them down the path.
"One reason students may enjoy an adjunct's perspective is the immediate practical experience/application we bring to the subject. We come from our firms or businesses and simply provide a perspective for application of legal doctrine. I serve as mentor and coach."
Another way Chapin supports students who have an affinity for ADR and/or workplace law is through the Chapin Book Award. Founded last year for the Saltman Center and added this year to the Workplace Law Program, the awards are separate $1,000 gifts funded by Chapin and awarded annually to a high-achieving UNLV Boyd Law student who demonstrates an aptitude and passion for dispute resolution and workplace law.
Professors who teach in each concentration nominate students for the awards. Sternlight and current Saltman Center director Lydia Nussbaum select the ADR winner, and McGinley and Garcia choose the workplace law winner. Unlike a scholarship, recipients of the Chapin Book Award can use the funds however they want.
Last year's inaugural Chapin Book Award recipient was 2020 graduate Astasia Lucas. This year Petya Pucci won the ADR award, while Erika Smolyar and Joseph Adamiak (both 2021 graduates) were co-recipients for workplace law. All three graduated in May.
"I remember one time as a science student, I received a book award for $100 and I thought it was the world," says Chapin, explaining his motivation for establishing the awards. "I'm first-generation everything and come from a working family where every $10 meant a lot. So this is a small gesture toward conveying recognition and gratitude for the passion and work the award's recipients demonstrate in these important areas of law and life."
While a couple of students each year will receive some much-needed spending money thanks to Chapin's generosity, the former pre-med student turned lawyer/ADR practitioner/adjunct professor hopes every student who passes through his classroom walks away with something far more valuable and everlasting.
"When they leave my class, I want students to take with them two or three [lessons] that stick with them for the rest of their legal careers and maybe even transfer to their personal lives," Chapin says. "If I can do that, I'll know I have done my job."