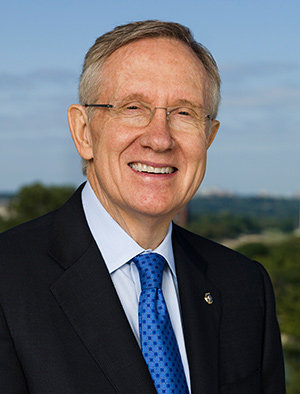 The UNLV William S. Boyd School of Law is pleased to welcome Senator Harry Reid as the law school's first Distinguished Fellow in Law and Policy.
In his role as a Distinguished Fellow, the longtime Senator and Majority Leader from Nevada will work with Boyd students and alumni, lecture and participate in classes, and pursue writing projects drawing on the resources of the Wiener-Rogers Law Library, which is the largest law library in the state.
"We are delighted that Senator Reid will be joining the law school as the first Distinguished Fellow in Law and Policy," said Daniel W. Hamilton, dean of the law school. "This is an unprecedented opportunity for Boyd School of Law students to interact with and learn from one of the most prominent lawyers and policymakers in the history of Nevada."
Born in Searchlight, Nevada, Senator Reid served 30 years in the U.S. Senate and is the longest serving Senator from the state. He served in the leadership of the Senate for 18 years, including nearly a decade as the Senate Majority Leader, where he took a leading role in shaping landmark legislation. Senator Reid is renowned for his work promoting economic development, investing in infrastructure and clean energy development, and championing Nevada's role as the country's premiere entertainment destination. In joining the UNLV Boyd School of Law, he carries on his family's long tradition of involvement with the university; Landra Reid attended Nevada Southern University, which then became the University of Nevada, Las Vegas.
"The creation of the UNLV Boyd School of Law 20 years ago added a great deal to the legal profession here in Nevada," said Senator Reid. "As a longtime supporter of the law school, I am looking forward to joining the UNLV Boyd community and to working with the state's future lawyers and leaders."
Senator Reid's new role at the UNLV Boyd School of Law coincides with the creation of the MGM Resorts Public Policy Institute at UNLV, which Senator Reid will co-chair along with Speaker John Boehner. The Public Policy Institute is a think tank that will seek bipartisan solutions on a range of economic, social, political, and workplace issues. The Public Policy Institute will focus on local, national, and international policies that impact the travel, tourism, hospitality, and gaming industries.
---
The UNLV William S. Boyd School of Law has nearly 400 students and offers three juris doctor degree programs: a full-time day program, a part-time day program and a part-time evening program. The school also offers a Master of Laws (LL.M.) in Gaming Law and Regulation and three dual degree programs: a J.D./MBA, a J.D./M.S.W. and a J.D./Ph.D. It is fully accredited by the American Bar Association and a member of the Association of American Law Schools.
The UNLV Boyd School of Law achieved its highest-ever overall ranking in U.S. News & World Report's 2018 list of top law schools. UNLV Boyd is ranked 62nd out of 197 accredited law schools, its Lawyering Process Program is ranked second for legal writing, and the Saltman Center for Conflict Resolution is ranked ninth in dispute resolution. UNLV Boyd's part-time program also ranked in the top 20. For more information about the UNLV William S. Boyd School of Law and its programs, visit www.law.unlv.edu.