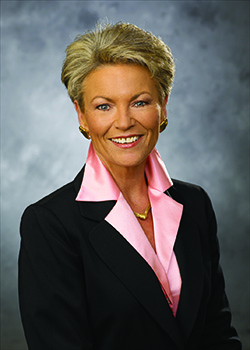 The UNLV William S. Boyd School of Law is pleased to announce that Pat Mulroy has joined Boyd as a Senior Fellow for Climate Adaptation and Environmental Policy and also as a Practitioner in Residence for the Saltman Center for Conflict Resolution. Along with UNLV, she shares appointments at the Desert Research Institute (DRI) and the Brookings Institution.
"We are delighted to welcome Pat Mulroy to the UNLV Boyd School of Law," said Daniel Hamilton, dean of the law school. "She has for decades been a leading authority in our state and around the world on the critical public policy issues surrounding water, conservation and natural resources. We look forward to Ms. Mulroy working with our nationally recognized Saltman Center for Conflict Resolution and to forging new partnerships with DRI and the Brookings Institution."
In her new role at Boyd, Mulroy's focus is on helping communities in water-stressed areas throughout the American Southwest and world develop strategies to address increased water source volatility and identify solutions that balance the needs of all stakeholders.
At DRI, Mulroy serves as the Maki Distinguished Faculty Associate where she explores the role of technology in optimizing the use of water resources. At Brookings, she is a nonresident senior fellow at the Metropolitan Policy Program where she collaborates with Brookings scholars in Washington, D.C. and the overseas centers to improve water policy.
A leader in the international water community for more than 25 years, Mulroy brings a wealth of experience to her new role, having served as General Manager of both the Las Vegas Valley Water District and the Southern Nevada Water Authority (SNWA). Among her accomplishments, she was instrumental in the development of the SNWA, helping to guide Southern Nevada through an unprecedented period of growth and one of the worst droughts in the history of the Colorado River.
Mulroy is a member of the Nevada Gaming Commission, as well as a member emeritus of the Water Research Foundation Board of Trustees.
The Brookings Institution is a nonprofit public policy organization based in Washington, DC. Its mission is to conduct high-quality, independent research and, based on that research, to provide innovative, practical recommendations that advance three broad goals: strengthen American democracy; foster the economic and social welfare, security and opportunity of all Americans; and secure a more open, safe, prosperous and cooperative international system.